Joseph O'Neil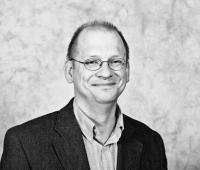 Education:
Ph.D. Comparative Literature and Modern German Literature and Culture, Indiana University (Bloomington) DAAD Dissertation Fellowship, Freie Universität Berlin
M.A. Comparative Literature, Indiana University (Bloomington)
B.A. magna cum laude, University of Louisville
Johannes-Gutenberg-Universität, Mainz (undergraduate direct exchange)
Research:
Current research projects and processes:
Monograph under review: Figures of Natality: Reading the Political in the Age of Goethe
Inspired by Hannah Arendt's concept of natality and Carl Schmitt's concept of the political, this study examines the dynamic of birth and life in works by Lessing, Goethe, Kleist, and Schlegel and in recent post-Romantic critique in order to distinguish the birth and institution of the political as conflict and difference from the (closed or open) political economy of life. This opposition is central to both the works of the age of Goethe and their critical reception in German- and English-speaking criticism since the 1990's.     (under review for the series New Directions in German Studies, Bloomsbury Press)
Current research project: The Fate of Thersites: Aesthetics, Ethics, and the People, 1760-1830
Through the figure of Thersites, the ugly and loudmouthed dissenter in Homer's Iliad and classical mythology, this project examines the question of how aesthetics and ethics relate to the idea of democracy and the demos, the people as crowd, in literary works, from G.E. Lessing and Goethe through Georg Büchner to Bertolt Brecht and Heiner Müller. It is conceived as a contribution to theories of aesthetic politics and political aesthetics and semiotics following the work of Ernesto Laclau and Jacques Rancière.
Selected Publications:
Works in progress or submitted for review
Figures of Natality: Reading the Political in the Age of Goethe. Monograph (ca. 100,000 words) under review for the Bloomsbury Press series New Directions in German Studies.*
Review essay on war literature for Colloquia Germanica
"A Brief Political Theology of Time: Goethe's Joseph, der Zweite." article in progress, ca. 8,000 words
"Ottilie Galotti redux: Guilt Culture and the Debt of the Bourgeoisie in Goethe and Lessing." --for special issue of German Quarterly
Published
"Ghostly Births: The Spectre of Romanticism and the Future of Capitalism." Seminar 50.3 (2014): 332-52.*
"Meistersänger als Beruf: The Maieutics of Poetic Vocation in 'Erklärung eines alten Holzschnittes...." Goethe Yearbook 20 (2013): 59-78.*
"Nomos oder Medium der Erde? Zur Geopoetik der Weltliteratur." In Figuren des Globalen: Weltbezug und Welterzeugung in Literatur, Kunst und Medien. Eds. Christian Moser and Linda Simonis. Göttingen: Bonn University Press bei V+R unipress, 2014. 193-205.
"The Shame of the Political: Truth as Vocation in Gracián, Lacan, and Badiou." Angelaki: The Journal of the Theoretical Humanities 17.1 (2012).*
Jakob von Uexküll, A Foray into the Worlds of Animals and Humans and Theory of Meaning. Trans. Joseph D. O'Neil. Minneapolis and London: University of Minnesota Press, 2010.

reviewed by Franklin Ginn, "Jakob von Uexküll beyond bubbles: Umwelt and Biophilosophy." Science as Culture 23.1 (2014): 129-34.
"Joseph O'Neil and the University of Minnesota Press should be commended for making this text available and approachable to readers without a working knowledge of the text's original German." --Robert Geroux, review in Humanimalia 3.2 (2012): 142-47. http://www.depauw.edu/site/humanimalia/issue%206/geroux-uexkull.html
 "Those interested in the environment (or environments), animal studies (especially critical animal studies), and biology will find this new translation significant and illuminating." --Kristen Gravitte, review in Interdisciplinary Studies in Literature and Environment 19.1 (2012): 218-19.
selected blog mentions:
* indicates a peer reviewed publication