Mark Richard Lauersdorf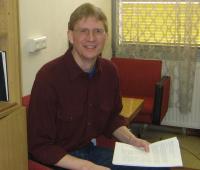 Education:
Ph.D. University of Kansas, 1995
Graduate Training:
University of Kansas (http://www.ku.edu/) •• Westfälische Wilhelms-Universität, Münster (http://www.uni-muenster.de/) •• Johannes Gutenberg-Universität, Mainz (http://www.uni-mainz.de/) •• Uniwersytet Warszawski, Warsaw (http://www.uw.edu.pl/) •• Univerzita Komenského, Bratislava (http://www.uniba.sk/)
Research:
RECENT HIGHLIGHTS
Invited Keynote Presentation:   "Linguistic visualizations as 'objets d'art'?" at the Herrenhäuser Symposium "Visuelle Linguistik Theorie und Anwendung von Visualisierungen in der Sprachwissenschaft" at Schloss Herrenhausen, Hannover, Germany - 19-21 November 2014
Invited Keynote Presentation:   "Mobility and Borders, Proximity and Distance: historical language contact and standard language development" at the conference "Mobility, variability and changing literacies in Modern Times" at Utrecht University, Utrecht, Netherlands - 11-13 June 2014
Invited Presentation:   " 'Mobility' and 'borders' in historical standard language development" At the VERBAL-Workshop Mobility & Language / Mobilität & Sprache as part of the 40. Österreichische Linguistiktagung, Universität Salzburg, Austria - 22-24 November 2013 [program | abstract book]
Invited Specialist: for historical sociolinguistic corpora and data visualization at the workshop "Historical data (esp. letter) collections: practices and standards" Sponsored by the project "Letters of Artisans and the Labouring Poor (LALP)" at Utrecht University, Utrecht, Netherlands - 9 November 2012
Invited Course: "Dialect Continua, Political Borders, Standard Languages – Data, Interpretation, Visualization" Taught at the 6th Summer School in Historical Sociolinguistics, organized by the Historical Sociolinguistics Network (HiSoN) at Frauenchiemsee, Bavaria, Germany - 9-16 August 2012
Invited Day-Long Workshop: "Corpora for Language Learning and Linguistic Research" Presented at Suranaree University of Technology, Nakhon Ratchasima, Thailand - 13 February 2012
Invited Keynote Presentation: "Mobility, Mobilization, Möbius Strips: concepts and practices for digital technologies in language teaching and learning" Presented at the 10th AsiaCALL International Conference, Bangkok, Thailand, organized by the Language Center at Srinakharinwirot University, Bangkok, Thailand - 9-11 February 2012
removed because older -->
---------------------------------------------------------------------------------------------------------
Current Research
I am beginning a large-scale international collaborative project with the long-range objectives to:
create a model of a digital linguistic corpus suitable for full-scale historical sociolinguistic investigation of diachronic language contact and language change phenomena; and
develop a set of investigative tools overlaying the corpus that will allow for quantitative/statistical analyses and a range of visualizations of the data drawn directly from the corpus.
The team assembled for this project includes colleagues from Austria, Germany, the Netherlands, and the United States who are specialists in corpus-based historical sociolinguistics (working with a range of Germanic and Slavic languages) and specialists in quantitative/statistical analysis and graphic visualization of linguistic data. We are currently in the early development stages, including project planning meetings and preparation of applications for external funding.
Research Interests
Historical sociolinguistics, particularly diachronic investigation of language normalization/standardization in language contact situations
Annotation and markup of digital historical corpora for historical sociolinguistic research, and the use of statistical and visualization software and digital technologies to create new interfaces for the presentation, visualization, and interpretation of historical corpora
Historical and contemporary sociolinguistics of Romance, Germanic, and Slavic contact zones
Indigenous minority languages (current focus on Western and Central Europe)
Language planning and linguistic legislation (current focus on Western and Central Europe)
Courses taught (at U of Kentucky and previously)
Introduction to Linguistics I & II
Introduction to Language Study
The World of Language
Nature of the English Language
Historical Linguistics
Sociolinguistics
Language Contact
Corpus Linguistics
Historical Sociolinguistics
The Germanic Languages: Comparative History and Structure
Ethnic, Linguistic and Cultural Diversity in France
Slavic, Romance, Germanic and Classical Languages in Space and Time
Sociolinguistic Issues in Modern Russia and the States of the Former Soviet Union
Research Methods in Linguistics
Selected Publications:
Editorial Positions
Selected Print Publications
Books:
Edited Volumes:
Slovo a tvar v štrukúre a v komunikácii, special issue of Philologica (Zborník Filozofickej fakulty Univerzity Komenského) Vol. LXXII. Bratislava: Univerzita Komenského, 2013. 458 pp. (Co-edited with Gabriela Múcsková, Katarína Muziková, Zuzana Hargašová.)
Slavia Centralis Vol. 3, No. 1 and Vol. 3, No.2 (special volume: Papers from the 6th Congress of the International Society for Dialectology Geolinguistics (SIDG), Maribor, Slovenia, 14-18 September 2009). Maribor, Slovenia: Department of Slavic Languages and Literatures, Faculty of Arts, University of Maribor, 2010. (Co-edited with Mihaela Koletnik, Astrid Nahl, Marc L. Greenberg.) [ Full online access: Vol. 3, No. 1 and Vol. 3, No.2 ]
Slavic Sociolinguistics in North America, special double issue of the Journal of Slavic Linguistics, Vol. 17. Bloomington, Indiana: Slavica Publishers, 2009. (Co-edited with Curt F. Woolhiser.) [ Contents and Abstracts (html) ]
Articles and Chapters:
"Eugen Pauliny and Historical Sociolinguistics", in: Slovo a tvar v štrukúre a v komunikácii, special issue of: Philologica (Zborník Filozofickej fakulty Univerzity Komenského) LXXII. Bratislava: Univerzita Komenského, 2013: 243-249.
"Slovencina na zaciatku mladšieho predspisovného obdobia (15. – 16. storocie): Ked ani viac dát nestací" (= "Slovak at the Beginning of the Early Pre-Codification Period (15th-16th Centuries): When Even More Data Isn't Enough"), in: Varia XX. Bratislava: Slovenská jazykovedná spolocnost pri SAV, 2012: 391-394. [ Complete volume in PDF ]
"Slavic Sociolinguistics in North America: Lineage and Leading Edge", in: Slavic Sociolinguistics in North America, special double issue of the Journal of Slavic Linguistics, vol. 17.1-2 (2009): 3-52. [ PDF download ]
"Protestant Language Use in 17th Century Slovakia in a Diglossia Framework", in: Peter Ženuch, ed. Život slova v dejinách a jazykových vztahoch. Bratislava: Slavistický kabinet SAV, 2003: 49-60. [ PDF download ]
"Slovak Standard Language Development in the 15th-18th Centuries: A Diglossia Approach", in: Laura A. Janda, Ronald Feldstein, and Steven Franks, eds. Indiana Slavic Studies (Bloomington, Indiana), Vol. 13 (2002): 245-264. [ PDF download ]
"Kultúrna slovencina administratívno-právnych textov zo 16. storocia. 'Co s fonológiou a morfológiou?' " (= "Cultural Slovak in 16th Century Slovak Administrative-Legal Texts. 'What About Phonology and Morphology?' "), in: Mira Nábelková, ed. Varia VII. Bratislava: Slovenská jazykovedná spolocnost pri SAV, 1998: 308-312. [ PDF download || Complete volume in PDF ]
Selected Digital Publications
Digital Projects:
Conference Proceedings: