Theodore Fiedler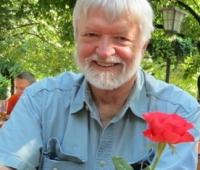 Ph.D., Washington University

Germanophone literature and culture since 1900, especially literature and politics since 1989.
Ph.D., Washington University
Selected Publications:
Rainer Maria Rilke/Ellen Key. Briefwechsel. Mit Briefen von und an Clara Rilke-Westhoff. Ed., introd. and annotated by Theodore Fiedler. Frankfurt am Main and Leipzig: Insel Verlag, 1993
(in progress)  "Peter Handke and Yugoslavia: Literature, The Politics of Identity, Justice."
"Pustiti mrtvim, da govorijo, se prepirajo, filozofirajo: zgodovina družine kot tragedija naroda v Še vedno viharju" [Tote reden, sich streiten, philosophieren lassen: Familiengeschichte als Volkstragödie in Immer noch Sturm], Gledališki list SNG Drama Ljubljana 92.10 (2012/13): 6-12. 
"'diese mesquinen Teufel'. Noch einmal zu Rilkes Brief an Lou Andreas-Salomé vom 31. Oktober 1925," Rilkes Welt. Festschrift für August Stahl zum 75. Geburtstag, ed. Andrea Hübener et al. (Frankfurt/M: Peter Lang, 2009). 370-77.
"A Question of Justice? Peter Handke and the Hague Tribunal," Crime and Madness in Modern Austria: Myth, Metaphor and Cultural Realities, ed. Rebecca Thomas (Cambridge, England: Cambridge Scholars Publishing, 2008) 304-42.
'Das Ich versagt am Es': Zu Rilkes Rezeption der Psychoanalyse," Rainer Maria Rilke. Eine Annäherung, ed. Jan Badewien and Hansgeorg Schmidt-Bergmann, Herrenalber Forum, 41 (Karlsruhe: Evangelische Akademie Baden, 2004) 102-39.
"[Rilke und die] Psychoanalyse," Rilke-Handbuch, ed. Manfred Engel (Stuttgart: Metzler, 2004) 165-74.
"[Rilke und] Scandinavien," Rilke-Handbuch, ed. Manfred Engel (Stuttgart: Metzler, 2004) 116-24.
"Beyond the Pleasure Principle: Rilke's Presentation of Love and Sexuality," The Marketing of Eros: Performance, Sexuality, Consumer Culture, ed. Peter Schulman and Frederick A. Lubich (Essen: Die Blaue Eule, 2003) 19-44.
"Weimar between Modernism and Heimatkunst: Contrary Visions of Cultural Renewal and National Identity," Why Weimar? Questioning the Legacy of Weimar from Goethe to 1999 ed. Peter M. Daly, Hans Walter Frischkopf, Trudis E. Goldsmith-Reber and Horst Richter (New York and Frankfurt: Peter Lang, 2003) 133-61.