Alum Michael Goodman graduated with a PhD in Chemistry from Vanderbilt University in 2018. Prior, he graduated from the University of Kentucky, College of Arts & Sciences with a Chemistry BS in 2011 and completed a post-doc at University of California, Davis.
This interview is part of a series conducted by the department called, "UK Chemistry Alumni: Where Are They Now?" This interview was coordinated by Dr. Arthur Cammers.
---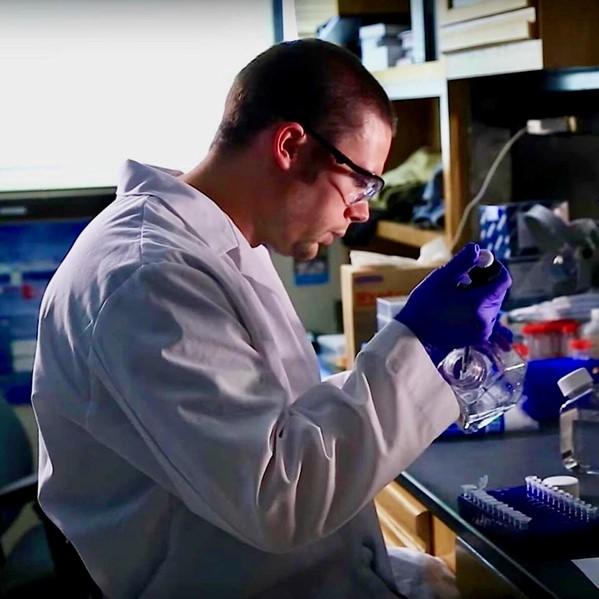 When did you Graduate with what degree?
I graduated from UK in May 2011 with a Bachelor of Science degree in Chemistry.
What are you currently up to?
I have recently started a position as a Staff Scientist at Vanderbilt University, working in the lab of Dr. Chuck Sanders in the Department of Biochemistry. After doing a postdoc with Bruce Hammock at UC-Davis, I decided to return to Vanderbilt, where I completed my PhD in Chemistry in 2018.
What convinced you to apply to UK?
I completed the Kentucky Governors Scholars program in the summer of 2006, which afforded me to attend nearly any state university in Kentucky for free. My hometown was very close to Western Kentucky University, another great institution, but I wanted to experience living in a new area of the state, a larger city (my hometown had a population of only 500 people), and plus, I was always an avid fan of UK athletics, especially basketball. I was also attracted to UK after my initial visit because of the many resources and opportunities available on campus. Albeit a huge physical campus, UK had a nice "home" feel to it and a sense of community.
Did you come to UK with the intention to study chemistry?  Was the choice to study chemistry due to an experience in your education or influence from an individual?
I knew when I came to UK that I wanted to major in the physical sciences. In high school, I had some great teachers in those subjects who inspired me to carefully examine and investigate the world around us. Initially, I was taking both basic college chemistry and biology classes and labs and was teetering on whether to pursue a degree in chemistry or in biology. I quickly learned that nearly every pre-professional student majored in biology (not a bad thing), but I thought that majoring in chemistry would offer me more genuine relationships with my professors. Additionally, the chemistry degree required much more math, which I always enjoyed studying as well. Ultimately, my decision to major in chemistry worked out perfectly since UK offered a chemistry degree with a biochemistry emphasis. I knew this was the path I wanted to take.
What course or courses were the most useful or interesting?
During my studies, I found various courses to be both useful and interesting to me. In my sophomore year, I took Organic Chemistry I with Dr. David Watt and learned about the building blocks of life within ourselves and in the world around us. It was fascinating to me how just a few elements dominate the physical world and how their interactions at the atomic level literally shape everything in existence. Plus, Dr. Watt was a phenomenal professor who offered to take students from his class out to lunch. I also thoroughly enjoyed my upper-level major courses including Biological Chemistry I and II, Biological Chemistry lab, and Cellular Biology. Although these courses were quite challenging, my fascination with how the natural world operates deepened. I was now translating how the atoms I learned about in Dr. Watt's lecture came together to form complex biological components including genetic material, proteins, and cellular organelles.
How did chemistry research affect your outlook on the chemical sciences as a career? Or if there was another aspect of your education that shifted your perspective about the chemical sciences more than research, like a writing class or physics lab for example?
In my initial years of study, I was considering a professional career in the health sciences, either in medicine or dentistry. My path shifted once I began doing scientific research. I remember signing up for CHE 395, Independent Research in Chemistry, with Dr. Allan Butterfield. Upon joining his lab, I learned that he required students to do three semesters of research with him. In the fall of 2010, I presented what I thought was my final research presentation in a group meeting and expressed my gratitude to Dr. Butterfield for allowing me to do research. He responded with something about not going anywhere and completing another semester of research with him in my final spring semester. It caught me off guard, but I was actually really glad to continue working in the lab and being on a peer-reviewed publication. Doing research for four semesters with Dr. Butterfield was an unforgettable experience and inspired me to pursue further studies in graduate school. After graduating in May 2011, I returned home for a few months and taught some at a local high school. Shortly after, I contacted Dr. Butterfield about references for graduate schools and he invited me back to his lab for a few months to work as a technician. I am forever indebted to Dr. Butterfield for his mentorship and encouraging me to be a confident scientist. My research experience in his lab prepared me for my graduate research at Vanderbilt, where I was fortunate to work with many more phenomenal mentors, including Richard Armstrong, Larry Marnett, and Chuck Sanders, as well as Bruce Hammock at UC-Davis. All of these gentlemen enabled me to establish a rewarding career in scientific research.
What advice would you give an undergraduate considering majoring in chemistry?
For undergraduate students considering a major in chemistry, I say with absolute certainty to pursue it. The thought of studying chemistry is daunting, yet is incredibly awarding. I think having a degree in chemistry distinguishes you as a dedicated scholar and allows you to think critically in other areas of study and life in general. Although cliché, get to know your professors and ask questions. In lower-level classes, make yourself standout. In upper-level classes, pursue the particular area you're interested in and think about how you will transition to your next career step. Finally, absolutely do research as an undergraduate. Find a mentor that is investigating something that sparks your interest and don't be intimidated to contact them. Be assertive and make your case known that you can be a valuable asset to a collaborative research environment.
Dr. Goody, I know you run. Any tips -n- tricks to share regarding work, and life exercise balance?
Exercise has always been a therapeutic activity for me. Although I love scientific research, it becomes rather taxing and frustrating at times. To alleviate stress, I love to pop in my headphones and head out for a few miles. In April 2017, I completed the Music City Half Marathon in Nashville and in April 2019. I completed the Music City Full Marathon. During my time at UC-Davis, I ran with a local running club, the Woodland Woodchuckers, once a week and met some lifelong friends there. There is nothing better than breaking up the midweek monotony of lab work with getting in a few miles followed by a few cold adult beverages. Therefore, running has become a beneficial hobby for me in multiple ways. Good exercise, good camaraderie, and a perfect work balance.