by Mike Lynch
A new earthquake-monitoring station has been added to the seismic network that is jointly operated by the
Kentucky Geological Survey
(KGS) at the University of Kentucky and the
Department of Earth and Environmental Sciences
in the
UK College of Arts and Sciences
. The station is located behind the Perry County Public Library in Hazard, Ky., in the southeastern part of the state. The station includes both a strong-motion device, detecting stronger seismic activity, and a weak-motion instrument for smaller earth motions.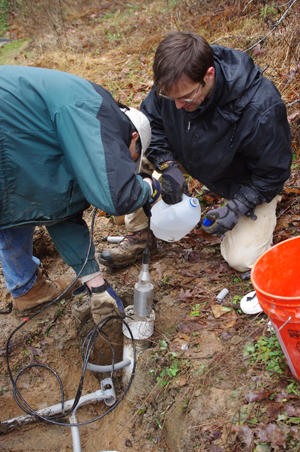 "This new station will help us to better monitor earthquakes in the area, like the 4.3-magnitude event that happened in Letcher County on Nov. 10, 2012, as well as mine blasts in the coal fields of eastern Kentucky," says KGS Geologic Hazards Section Head Zhenming Wang.
"UK has been interested in putting a station in this area for a long time because this area is close to the East Tennessee Seismic Zone," says Ed Woolery, an associate professor in the Department of Earth and Environmental Sciences. "The new station, being in a coal-mining region, will help UK and other agencies monitoring seismic activity to tell the difference between true quakes and blasting at coal mines or other human activities."
Seth Carpenter, a seismologist in the KGS Geologic Hazards Section, adds that "The recent earthquake's epicenter is only about 10 miles from the Perry Count Public Library, so we will have excellent recordings from any earthquakes that might happen at or near that location again in the future. When the Nov. 10 earthquake happened, it spurred our efforts to get this station in the ground in this area."
Perry County Library officials plan to use the information from the seismic station for public education of students and others in the county. Computer monitors have been set up so library patrons will be able to see the readings from earthquakes, and educational materials will be provided to explain what the seismic station is recording.
The data from the instruments at the station is received real-time at UK and will be available to managers of other seismic networks in the region, such as the U.S. Geological Survey or other interested groups or individuals.  The recordings have also been added to the list of seismic instruments whose recordings can be monitored in near-real time at this Web site maintained by KGS:
http://www.uky.edu/KGS/geologichazards/equake3.htm.
The new station is designated HZKY, and clicking on the triangle at the station's Perry County location will bring up the latest recordings from the instruments. Because the instruments are very sensitive, those recordings will include ground motions caused by nearby traffic from larger vehicles and other activities close to the instruments.
Fourteen stations in the seismic network are now available online for the public to check for earthquakes.
Photo: Zhenming Wang and Seth Carpenter of the KGS Geologic Hazards Section install one of the instruments at the new seismic station in a PVC-lined hole drilled behind the Perry County Public Library for the station