By Deb Weis
(March 4, 2015) — University of Kentucky architecture graduate student Mark Manczyk won the UK Venture Challenge and a $1,500 scholarship with his business idea, "re.3." Second place and $1,000 went to Phillip Gordon with "Nomad Apparel." The "FinanceU" team of Michael Lewis and TJ Barnett won third place and $500. UK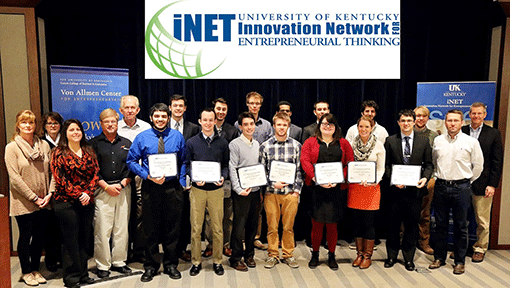 Venture Challenge was held last Saturday, Feb. 28, at the William T. Young Library UKAA Auditorium.
"Congratulations to all of the students who participated in UK Venture Challenge," said University of Kentucky President Eli Capilouto. "This competition provides students the opportunity to be creative, innovative and entrepreneurial, which is an important part of their educational experience."
Mark Manczyk, a first-year graduate student in the Masters of Architecture program, said "'re.3' will produce sustainable consumer accessories with an end of use program that incentivizes customers to recycle old products. I plan to continue iterating on further designs and product ideas for 're.3' via 3d printing. These will be helpful in showing more of a product suite for 're.3' since the business model is less about one single product, but rather about the dynamic of the recycling and reuse of the sustainable materials from previous products."
Manczyk said that Venture Challenge was important in expanding his belief and confidence in the business concept for "re.3."
"Having the opportunity to receive comments from the judges and others there on Saturday is extremely valuable in helping me to evolve the business and have more potential for success," he said.
Marketing senior Phillip Gordon's concept for "Nomad Apparel" is to produce comfortable and stylish clothes, starting with jeans, with a secure pocket.
"I plan to use the prize money to order new pants and shorts to prepare for a full production run and to develop new product lines I am designing," said Gordon, who not only won second place, but was also the online vote winner with 5,542 votes.
"Venture Challenge gave me the opportunity to practice my presentation skills and show off all my hard work over the past months," Gordan said. "I was glad to meet so many like-minded students in their entrepreneurial pursuits and hope this competition continues to grow at UK."
Third place winners Michael Lewis and TJ Barnett described FinanceU as a free, innovative, community-based platform that empowers any student to build their own scholarship through the process of crowdfunding.
"Our team is working hard to develop FinanceU. The money we won will be used to help bring FinanceU to market this fall," said Lewis, a finance and accounting freshman, who added, "Visit www.financeu.org to get started and learn more!"
Partner Barnett is also a freshman in finance and management.
"Competing in Venture Challenge was a great experience that allowed us to network with some awesome entrepreneurs and get great feedback on our company," Lewis said. "We were honored to compete against so many great ideas."  
The first and second place UK Venture Challenge winners will represent UK at the state competition, Idea State U, regionals sponsored by the Kentucky Cabinet for Economic Development.
The UK Venture Challenge competition is organized by iNET Director Deb Weis with Dean Harvey, the executive director of the Von Allmen Center for Entrepreneurship. iNET, the Innovation Network for Entrepreneurial Thinking, is hosted by the College of Communication and Information. The Von Allmen Center for Entrepreneurship & the Lexington Office of the Kentucky Innovation Network are part of the Gatton College of Business and Economics.