Have you ever had your heart set on something, only to have your hopes crumble before your eyes? Sometimes quickly, sometimes slowly, we all experience setbacks. When I went to college, I was convinced that I would become a famous musician. One difficult, and highly unsuccessful, semester later, I was confronted with the fact that I didn't have what it took to major in music. I found another love – psychology – and have spent the better part of the past 14 years trying to uncover the mysteries of the mind.
          Today brought another opportunity for resiliency my way. Since I arrived in Sydney, my host Tom said we had to eat a famous dish served at a nice local restaurant. The famous dish is a pig's head. I've never eaten pig head before, nor had I thought about it. But A&S Wired co-Directors Cristina Alcalde and Jeff Rice keep encouraging me to have a more adventurous diet. So when Tom asked if I wanted to eat pig head, I channeled my inner Cristina and Jeff: "Sure, I'll try it," I said. I was in.
          Tom corralled a group of seven people to the Pig Head Dinner tonight. We arrived with anticipation. As our server got our drink order, we told her how excited we were to have the pig's head. One of the dinner goers was scared, as if he was going to have to chase the pig down himself. We gave him support.  
          "I've been thinking about doing this for six months," Tom said. "I'm so excited. This is going to be amazing."
          "I'm excited too," I said. "I haven't been thinking about it as much as you have, but I think it's going to be good."
          Suddenly our server returned with a dour look on her face. I didn't know what was about to happen. And then she said it:
          "I'm sorry to report that we are out of pig's head tonight," she said. "I do apologize for this."
          I saw Tom's face drop in disappointment the same way mine did when I realized I wasn't going to graduate with a degree in music. Okay, maybe not that serious, but you get the point. I felt for him. He's my friend and I never like to see anyone experience disappointment.
          "Do you have any other piece of the pig that we could order?" I asked the server. The laughter that accompanied my question cut the disappointment a bit. Yet, I knew some negative feelings lingered a bit. I know I wasn't the only one who considered going to a different restaurant.
          Then the group came together, we formulated a Plan B, and we had a wonderful evening (see the picture for proof). We laughed, I got to know everyone a little better, and we left the restaurant closer than we were when we entered it.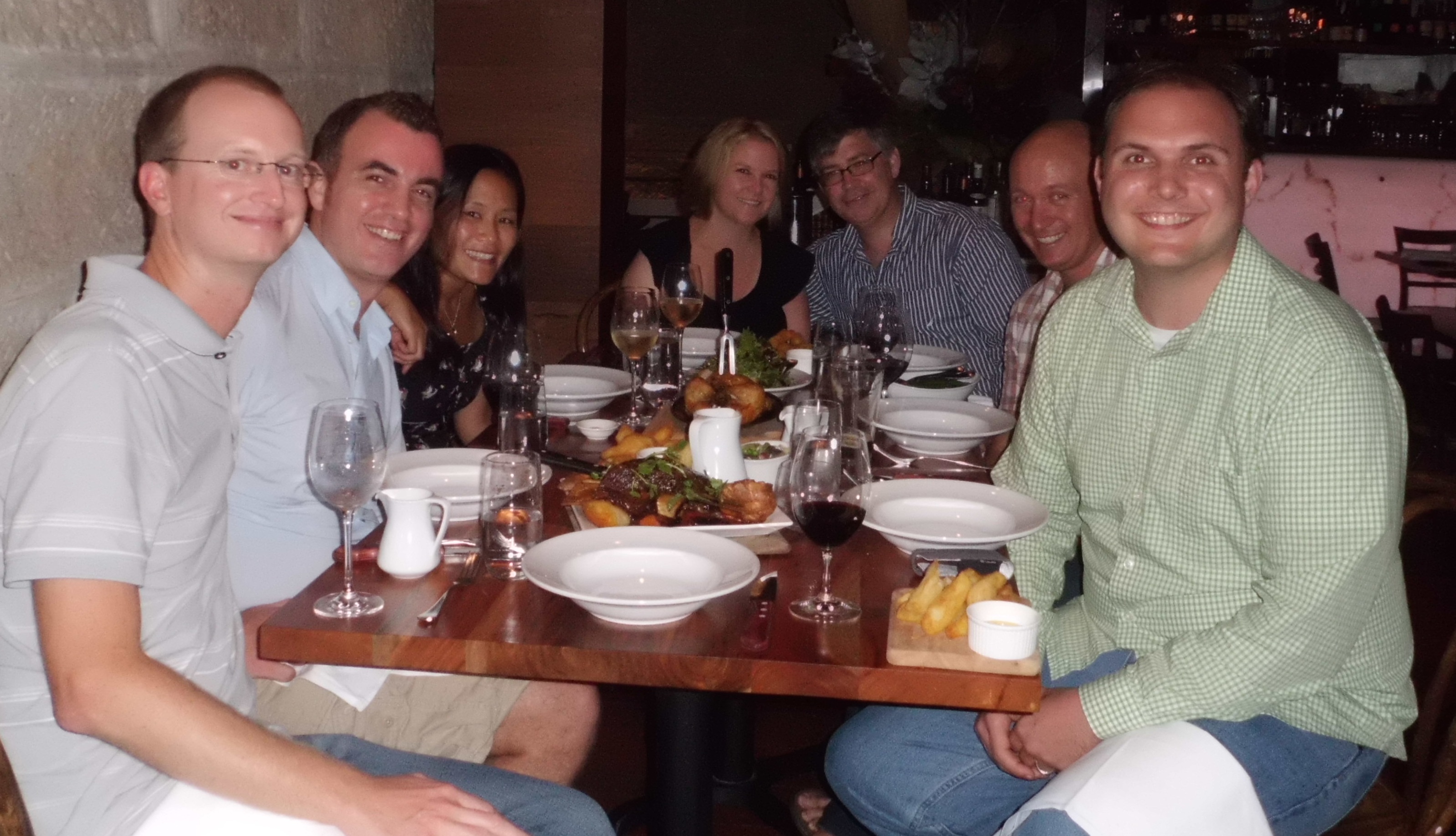 You see, people almost never go out to dinner purely for the food they eat. We go to connect with each other, to create new memories, to laugh, and to get a bit of rest from the hustle and bustle of our daily lives. The best source of nourishment we'll ever get is what we get from each other. So, it didn't matter whether I ate a pig's head tonight. What mattered was that I experienced a funny setback with others – and we grew closer because of it.