by Sarah Geegan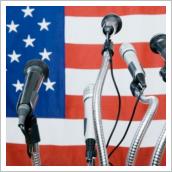 In the 2008 election, young Americans voted in their largest numbers since the 1970s. With the 2012 election around the corner, the UK College of Arts and Sciences, with the support of the Department of Writing, Rhetoric and Digital Media (WRD) will present several events for UK students to become more informed about the election, specifically surrounding the second presidential debate.
A faculty panel, consisting of political science Professor Stephen Voss, history Professor Paul Chamberlin and history Professor David Hamilton, will discuss relevant election issues on the night of the debate, Oct. 16, at 8 p.m., an hour before the debate begins, in the Funkhouser Building, Room 200. Each will focus on particular policy areas: Voss will discuss rising tuition and student loan debts; Chamberlin will highlight foreign policy; and Hamilton will focus on the taxes and the deficit.
Brandy Scalise, lecturer in WRD took the lead in planning the events.
"Students have few opportunities to look at important issues in forums like this," Scalise said. "This setting will give them a chance to really examine and tease out these issues so they can better understand the policies that the candidates are discussing and the implications of the different candidates' views."
The panel will address questions from Scalise, acting as a moderator, and then take questions from the audience before the debate begins at 9 p.m. The TV broadcast of the debate will be projected in the Funkhouser auditorium.
Students will have a second opportunity to discuss pertinent issues on Oct. 17, the day following the debate.
WRD will facilitate small group discussions, open to all students, on the second floor of the White Hall Classroom Building from 6-7 p.m. Various faculty, lecturers and graduate students will lead group discussions, using video clips from the previous night's debate, to encourage peer discussion of the topics that arose throughout the debate.
"These discussions will allow students to ask questions in a comfortable environment," Scalise said. "It will also give them the opportunity to focus on issues that are specifically relevant for students, and to engage in a political dialogue with their peers."
Scalise said that the students will largely guide the sessions in a seminar-like, discussion-oriented fashion. She will prepare various important clips from the debate for the facilitators to play as the conversations develop.
"We will have space for a couple hundred students, so I hope as many people as possible take advantage of this opportunity," Scalise said.
For more information on these events, contact Brandy Scalise at  brandy.scalise@uky.edu.