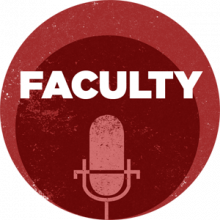 Dave Moecher, Professor and Department of Earth & Environmental Sciences Chair, is a 2013 recipient of the University of Kentucky's Ken Freedman Outstanding Advising Award which is given each year to one professional and one faculty adviser. The candidates are nominated by students and the award, named in honor of Ken Freedman, who served as a professional adviser at UK for 15 years, recognizes outstanding service in the field of academic advising. 
Professor Moecher, as the director of undergraduate studies, has advised all the majors going through his department for more than six years. As a faculty advisor, he has to balance those responsibilities with his research and teaching efforts. Different faculty have different proportions of these roles but Moecher, like other advisors, finds a special reward in the effort of serving students in this particular way and plans to continue his efforts long into the future. 
In this podcast, Moecher discusses the team effort required between professional and faculty advisors to make sure
A&S
students have the support they need.
This podcast was produced by Patrick O'Dowd.

This work is licensed under a Creative Commons Attribution-NonCommercial-ShareAlike 3.0 Unported License.