By Whitney Hale
(Sept. 1, 2015) — For centuries, African Americans in the United States have had to overcome a lack of resources chronicling individuals' lives and culture in the nation's early history based on bigotry and societal status. Today, the black community's LGBTQ* members face similar obstacles in capturing their story. Scholar Jennifer Jones will speak to these difficulties at a talk at the University of Kentucky beginning 4 p.m. Thursday, Sept. 3, in the Great Hall of the Margaret I. King Library Building. The event is free and open to the public.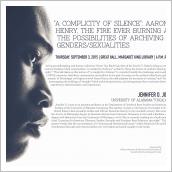 Jones' talk, "A Complicity of Silence: Aaron Henry, 'The Fire Ever Burning' and the possibilities of archiving Black genders/sexualities," explores the notion of "a complicity of silence" to consider broadly the challenges and possibilities of documenting black LGBTQ* intimacies, identities, communities and politics in the past. Focusing on the archival collections, public memories and personal memoir of Mississippi civil rights activist Aaron Henry, the talk analyzes the necessity of creating "new" black LGBTQ* collections, interrogating the holdings of "straight" black archival repositories, and reimagining what constitutes historical "evidence" of black LGBTQ* experiences, epistemologies and expressions.
Currently, Jones is an assistant professor in the Department of Gender and Race Studies, as well as American studies, at the University of Alabama-Tuscaloosa. Jones teaches 20th century African-American history, black sexuality and the history of sexuality in the U.S.
Jones received her doctoral degree in American history from Princeton University in 2014. In 2007, she received her bachelor's degree with honors from the University of Michigan-Ann Arbor. Currently, she is working on a book about the effects of racial equality and the civil rights movement on modern perceptions and understandings of homosexuality. "Queering an American Dilemma: Gender and Sexuality in the United States' Race Relations, 1945-1985," seeks to establish the intertwined histories of African Americans, sexuality and modern conservatism.
The event featuring Jones is sponsored by UK Libraries Special Collections Research Center and the African American and Africana Studies Research Program in the UK College of Arts and Sciences.