Shale--An Undergraduate Literary Magazine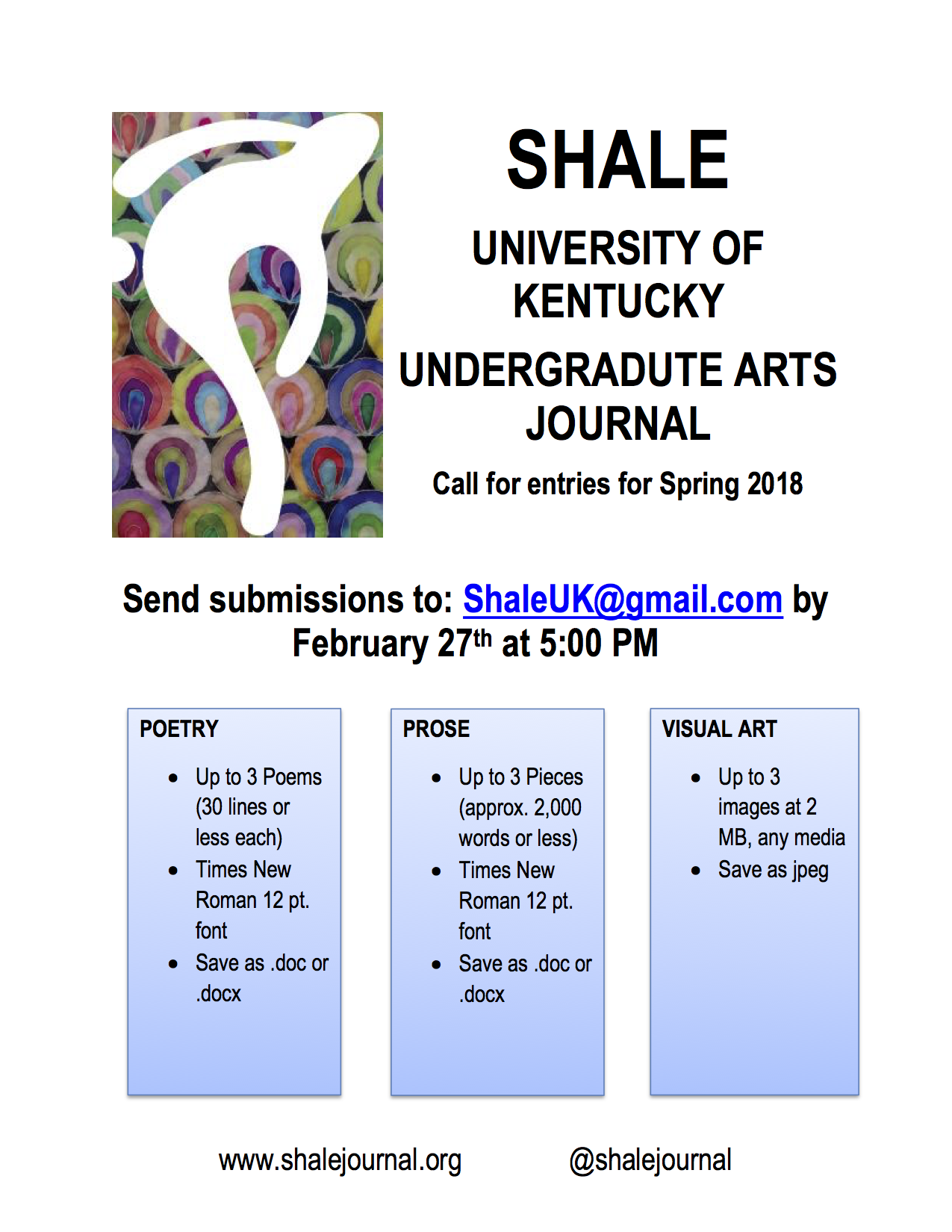 Winning Journal in the 2015 Sigma Tau Delta-Sponsored National Competition for Undergraduate Literary Journal--3rd Place!
History
Out of the ashes of the old literary journal JAR, UK undergraduate Eric Schlich created The Cat's Figment in 2008 as part of an independent project guided by the Gaines Center for the Humanities. Renamed Shale under Ashleigh Lovelace during the 2011-2012 publication cycle, this journal passed from the leadership of one Gaines Fellow to another for seven years. In 2012, Sarah Hayden incorporated the dying world language journal In fi nI into our pages and later secured funding for our first perfect bound edition. In 2013, Katie Cross brought Shale to UK's campus by co-founding Graphite Creative Writing Association and organizing creative events including the Off the Ground reading series. Over the years, Shale has evolved from the loose newsprint of that first Cat's Figment to a professional book published twice a year.
Shale is run by the philosophy of opportunity. We hope to provide the opportunity for passionate undergraduates to publish their art in written or visual form. We maintain this philosophy when it comes to the composition of our staff.
Staff
Shale is run by a volunteer staff, with potential turnover in each publication cycle. The majority of our staff members happen to be English majors interested in the editing and publication processes. To join staff, email shaleuk@gmail.com ("shaleuk" at "gmail" dot "com") with relevant editing, design, or marketing experience. 
Spring 2018 Editors
Karly Walker & Bridget Nicholas:  Editors-in-chief 
CONTACT:  On Facebook under "Shale Literary Journal" and on Twitter as @ShaleJournal
EMAIL: shaleuk@gmail.com ("shaleuk" at "gmail" dot "com")