by Erin Holady Ziegler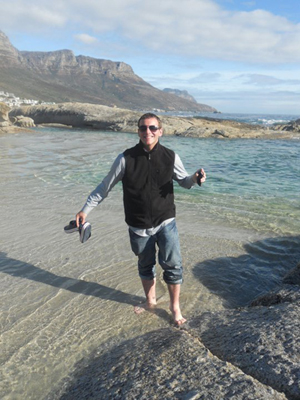 When rising University of Kentucky senior Joseph Mann arrived in Cape Town, South Africa in mid-May, he was ready to make a difference and ready for a challenge. Little did he know that his travel abroad experience would change the course of his life.
"You just need to come here," Mann laughed. "That's what I've told my friends and family. In the face of such adversity, there's hope. South Africans know that they have a bright future. Despite issues with service availability and government incapacity, they have faith."
Mann, a psychology and gender and women's studies major at UK, has a keen interest in human rights and community service.  He started his own graphic design company in high school in service of charitable and other nongovernmental organizations.
After the aspiring activist took A&S 100, "Kentucky & South Africa, Different Lands, Common Ground," last fall at the suggestion of Program Director Lauren Kientz, his interest was piqued by the diverse and burgeoning democracy. 
"The class brought to my attention certain instances of human rights disparities that exist throughout the present world," said Mann, one of three A&S students awarded scholarships to study in Cape Town from UK's Women and Philanthropy Network. "And I wanted to do something other than sit in an office here at home working with the technical aspects of an organization."
UK's College of Arts and Sciences focused on a theme of South Africa during the last school year.  Manns says that experience led to his desire to travel to Cape Town.  This is his first experience abroad and he traveled in Europe before heading to South Africa.
"I didn't know much about the country before 'Kentucky and South Africa' on campus," said Mann, whose senior thesis focuses on gender in developing countries. "The South Africa program was remarkable. And after learning about the historical struggle for gender and ethnic rights, this was especially meaningful."
In Cape Town, Mann has worked with human rights organization The Black Sash, and he is taking a class that focuses on South African history and culture. The UK trip includes tours of the townships where blacks were segregated from whites during apartheid and a tour of Robben Island with former political prisoner Eddie Daniels as well.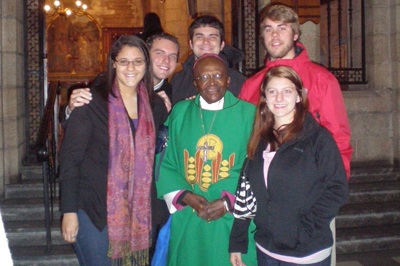 The UK contingent recently had the opportunity to meet Nobel Peace Prize winner Archbishop Desmond Tutu at a gathering organized by UK scholar-in-residence Andre Odendaal. Mann was surprised at how friendly and personable a gentlemen Tutu was.
"With everything you know about Archbishop Tutu and his global reputation, he just sat down and talked," Mann said.  "He's real. The experience was unforgettable."
Cape Town continues to amaze him as well. "There are so many stereotypes of South Africa as a developing country, but I haven't felt that way at all in Cape Town," said Mann. "Yes, major issues remain. You might see images of poor starving children, but the entire country is not like that. There are many faces to South Africa, just like the U.S."
Mann plans to return to South Africa this fall to work at child's rights organization Molo Songolo, where he'll be on the front lines, taking psychological accounts of children rescued from the sex trade in sub-Saharan Africa.
"When I left Kentucky, I didn't realize that I was going to fall in love with the sentiment of the people here," Mann said. "I've learned a lot about what I want to do. And I've found the place where I want to do it."
Mann is one of nine students studying abroad in Cape Town this summer. The trip marks the culmination of UK's College of Arts & Sciences year-long initiative with South Africa. 
The college will host the program again next summer. For more information, contact the Education Abroad at UK office at (859) 257-4067 or EducationAbroad@uky.edu.