Research Interests:
francophone
colonial
sexuality
gender
Race
Caribbean and New World Studies
Postcolonial Studies
African Studies
Education
PhD, French Language and Literatures with a specialization in Francophone and New World Studies, University of Virginia, University of Virginia, 2008
Research
Specializing in Francophone Caribbean, African, and New World literatures and cultures, Professor Couti examines how the notion of local knowledge in the colonial and post-colonial eras has shaped the literatures and awareness of self in former colonies through what she terms a 'Sexual Edge' – a sharp violent representation of sexuality as a societal construction. She has published articles on women writers, on questions of diasporic identities, memory, and exile as well as on issues of nationhood, sexuality, gender, and violence.
Her first book project Dangerous Creole Liaisons considers the ways in which white and black French Caribbean writers represent sexed female bodies and sexual difference to advance their political ideologies, often hoping to vindicate one outlook over others. In so doing, they deploy a cunning rhetoric of victimization that white creole authors first put into place in the 19th century and that black writers re-appropriated in the 20th century. She examines various texts, which construct ideas of the nation that do not merely revolve around the usual metaphors of the motherland or Mère-patrie but rather around illicit liaisons and sexual subordination. 
Her second book project Sex, Sea, and Self offers a re-reading of the relevance of black authors at the beginning of the twentieth century. This revaluation covers male and female authors of color who, for their own political, cultural, and personal ends, reject or reproduce the (largely white) metropolitan and Creole exotic colonial mythology that surrounds Creole women and Creole sexual stereotypes such as the doudou (mulatto women as tantalizing objects of desire). 
She examines the literary appropriation of eroticized images of bodies for the promotion and propagation of identity politics and nationalistic awareness in former French colonies from the Caribbean and West Africa. Questioning, for instance, erotic and sexualized figures such as the doudou (French Antillean exotic object of desire) or the kokeur (oversexed womanizer) she explores notions of self, gender, race and ethnicity as social and national constructs, which present the creole body as a reflection of colonial and postcolonial societies. For that purpose, she studies first masculine discourse and then feminine response to this patriarchal framing of  identity, self and culture .
Selected Publications:
(**Most pdfs of my articles and book chapters can be accessed here: https://bwabrile.wordpress.com/publications/)
*******
Books
Upcoming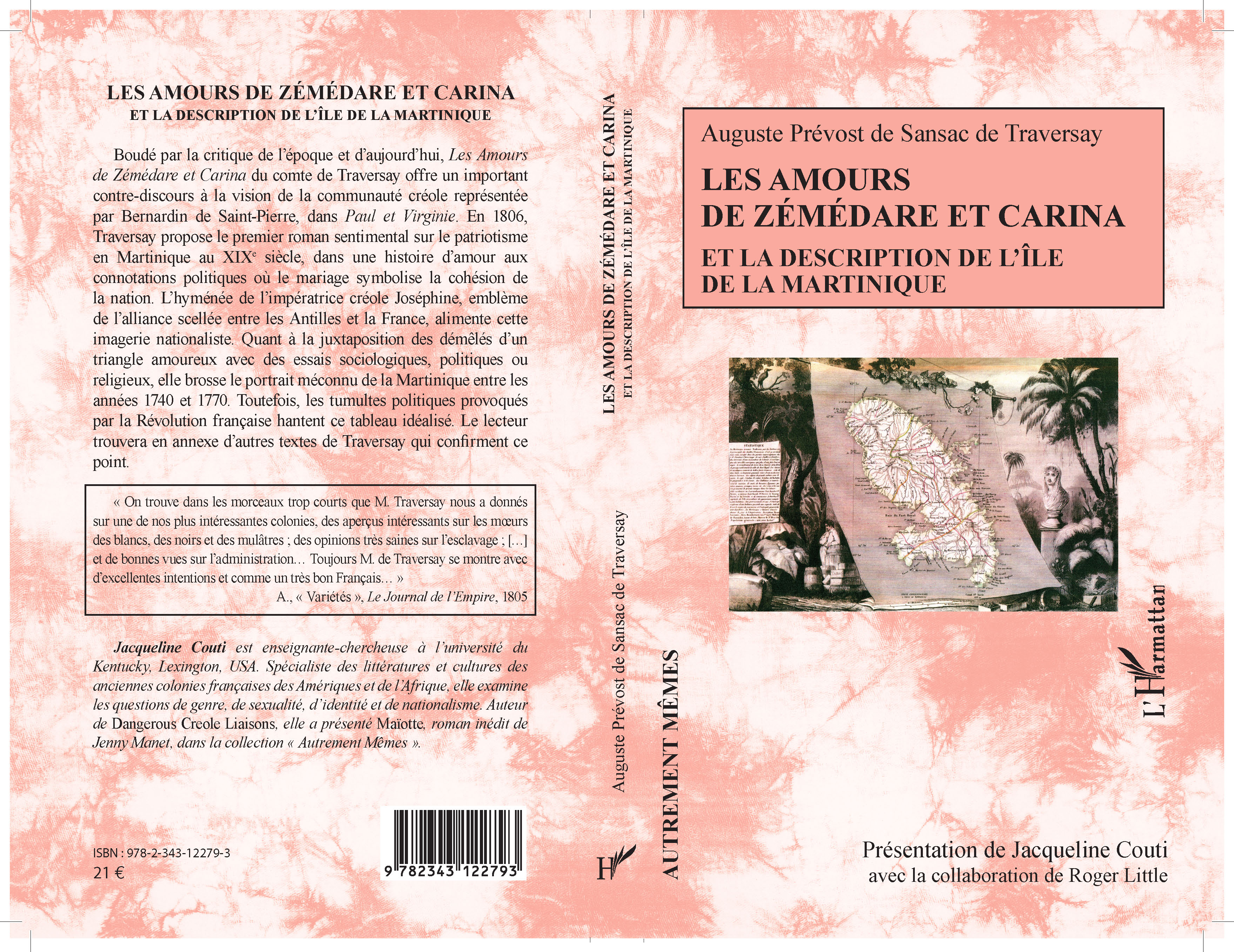 Latest Monograph: 
Dangerous Creole Liaisons
http://liverpooluniversitypress.co.uk/products/74457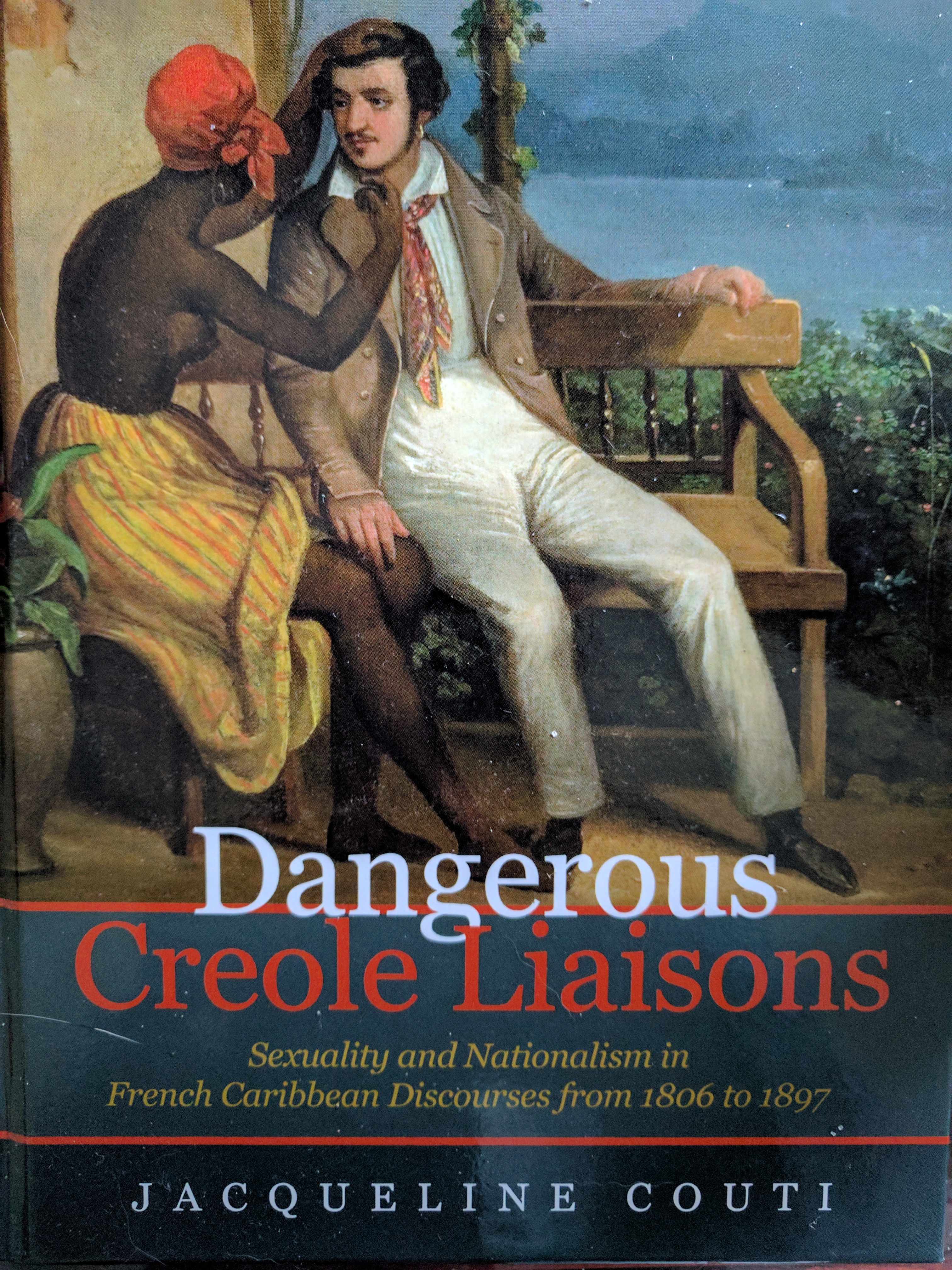 Book Review of Dangerous Creole Liaisons:
***
The Page 99 Blog posts about Dangerous Creole Liaisons:
The Page 99 Test
Critical Edition:
---, ed. Maiotte (1896). By Jenny Manet. Paris: L'Harmattan, Autrement Mêmes, 2014.
---, ed. Discourses of Trans/National Identity in Caribbean Literature. Canadian Review of Comparative Literature / Revue Canadienne de Littérature Comparée CRCL/RCLC 38.1 (March 2011)  
***Comptes rendus de lecture de Maïotte/Book Reviews of Maiotte***
"Hors de soi: Dissociation et réintégration corporelles dans C'est vole que je vole de la martiniquaise Nicole Cage-Florentiny," Paris: L'Harmattan, 2016. 169-180
"La Doudou contre-attaque: Féminisme noir, sexualisation et doudouisme en question dans l'entre-deux-guerres," Comment s'en sortir. Du côté obscur : Féminismes Noirs/From The Dark Side: Black Feminisms (2015): 111-39. (feminist peer-reviewed journal published in France).
"The Mythology of the Doudou: "Sexualizing Black Female Bodies, Constructing Culture in the French Caribbean, Provocation: A Transnational Reader in the History of Feminist Thought. Oakland: University of California Press, 2015. 131-43.
"Birthing Chaos: Two-Faced Women, Cultural Conflict and Betrayal in Créoliste Writings," 
Critical Perspectives on Conflict in Caribbean Societies of the Late 20th and Early 21stCenturies, Cambridge Scholars Publishing, 2015. 31-50
 "Le Bourreau et la victime: Politiques du corps et des rapports sociaux des sexes dans l'œuvre de Gisèle Pineau." Nouvelles Études Francophones 27.2 (2013): 74-89.
"Migrations de corps meurtris et de rêves brisés : vision culturaliste de la nation dans Mamzelle Libellule et Morne Pichevin de Raphaël Confiant", Genre et migrations postcoloniales : lectures croisées de la norme, 2013, 69-84.
"Topographie de la masculinité abjecte: la maison et le corps féminin chez Tahar Ben Jelloun et Patrick Chamoiseau," Mémoires et imaginaires du Maghreb et de la Caraïbe, Paris : Edition Honoré Champion, 2013.
"Le chant du koké de Patrick Chamoiseau: Rapport des sexes, marquage phallique et politique de négociation culturelle," Interculturel Francophonies, 22: Tracées de Patrick Chamoiseau (nov.-déc). 2012: 47-64., Ed. Samia Kassab-Charfi, 238 pp. ISBN 978-88-95343-
"Sexual Edge in the Tropics: Colonization, Recolonization and Rewriting the Black Female Body in Raphaël Confiant's Le Nègre et l'Amiral and Reverend Isaac Teale's "Sable Venus: An Ode" (1764)", Sargasso: Placing the Archipelago: Interconnections and Extensions. 2010-2011, I & II (2012).
"L'errance d'exil et le recadrage mémoriel dans Pélagie-la-Charrette d'Antonine Maillet et Chronique des sept misères de Patrick Chamoiseau."  Romance studies 29.2 (April 2011): 92–106.
"Seduction and Power: Battle of the Sexes in Ken Bugul's Riwan ou Le chemin de sable, Calixthe Beyala's Comment cuisiner son mari à l'africaine, and Mongo Beti's Le 
pauvre Christ de Bomba." Emergent Perspectives on Ken Bugul. Ed. Jeanne-Sarah de Larquier and Ada Uzoamaka Azodo. Trenton, NJ: Africa World Press, 2009. 163-181.
 "Tambour-Ka, Cyclones, and Awakenings of Body and Spirit in Pineau's Macadam Dreams." Mango Season Special Issue: Francophone Women Writer 1. 1 (April 2007): 67-83. Ed. Gerise Herndon et. al. London: Goldsmiths College Caribbean Centre.
"Au sommet du mât: érotisme et masculinité dans Le mât de cocagne de René Depestre." 
Cincinnati Romance Review 25 (2006): 45-63.
SELECTED CONFERENCE PRESENTATIONS
**INVITED LECTURES**
"Dangerous Creole Liaisons: The Invention of Creole Women," Transatlantic Pollination, Miami Book Fair organized by Miami Dade College, Nov 20 2016.
"Mange-moi (Eat Me): Masculine Tales of Fear and Desire", Islands and Identities: Memories and trauma, conference organized by The South Atlantic Center of the Institute of the Americas, at Georgia State University, April 15-16, 2016.
"Circle of Rhythms: French Caribbean Dance, Resistance and Transcendence" Julia Cooper Lecture and Workshop. 21st Annual Black Women's Conference Leap for Joy, Lyric Theater, Lexington, April 24, 2015.
"Soirée Littéraire: Littérature et découvertes d'antan, Maïotte (1896) de Jenny Manet," December 17, 2014, Bibliothèque Schoelcher.
"Conférence sur le roman-feuilleton Maïotte: retour 118 ans en arrière !," December 14, 2014, at Le Conseil Général, Martinique.
"L'impureté du geste chez Césaire." Colloque Césaire ENS 12 and 13 December 2013.
"Hip-Hop Kreyol: Identity, Diasporic Spaces and Rhythm of Empowerment in the French
Antilles." Hip-Hop as Social and Political Empowerment. 11-14 Sept. 2013, 9am-6pm, Tagungszentrum Schloss Herrenhausen, Hannover, VolkswagenStiftung. Symposium reading.
**Papers**
"Am I My Sister's Keeper?: Race, Class, Femininity and Gendered Diasporic Spaces in
Interwar Paris." African Americans, 'Race,' and Diaspora. Université Paul-Valéry, Montpellier 3. 13-15 June, 2013. International conference reading.
"A corps perdu et retrouvé: fragmentation, traces, et refoulement dans L'exil selon Julia et 
L'espérance-macadam de Gisèle Pineau." Traces, Fragments, Remains / Traces,
Fragments, Restes 20th and 21st Century French and Francophone Studies. The Georgian Terrace, Atlanta, GA, 28-30 March, 2013. International colloquium reading.
"Paris de mes amours: Sexuality, Diasporic Spaces, and Destabilization of Exoticism à la
française in the Interwar Period." Diasporas and Race. Wake Forest University, 25-27 Oct. 2012. Colloquium reading.
"A Feast for the Eyes: French Caribbean Femininity and Colonial Desire in Lafcadio Hearn's 
Writings." 38th Annual Nineteenth-Century French Studies Colloquium. North Carolina State University, Raleigh, North Carolina, 11-14 Oct., 2012. Colloquium reading.
"Le contrat sexuel dans L'espérance-Macadam de Gisèle Pineau: politiques d'appartenance." 
Caribbean Association Conference: 'Unpacking Caribbean Citizenships: Rights, Participation and Belonging.' Guadeloupe, French Caribbean, May 28-June 1, 2012. Conference reading.
"Crossing the Urban-Mangrove: Errancy and Mise-en-relation in Chronicle of the Seven 
Sorrows." 20th and 21st Century French and Francophone Studies International 
Colloquium. Long Beach, California. 29-31 Mar. 2012. Colloquium reading.
"Bon appétit: A Masculine Tale of Desire, Resistance, and Fear in Raphael Confiant's Mamzelle Dragonfly." Narrating the Caribbean: Food for the Soul or Food for 
Thought, University of Kentucky, Feb. 2012. Symposium reading.