Robert Rabel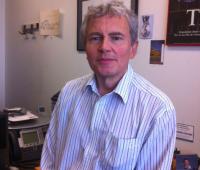 Education:
Ph.D., University of Michigan (1975)
Biography:
I',ve given a little thought to Anthony's whimsical suggestion that Oedipus could have solved the problem posed by the oracle if, like Hamlet, he had put on a play where a charcter named Oedipus kills his father and marries his mother.  By doing so he would have demonstrated great piety in his relationship to the divine. Somebody at the end of the class said that this would make a great short story. Indeed it would. One could give the story a postmodern twist--have the short story nod to its own textuality--by having Oedipus realize that he himself is a character in a text written by Sophocles and, possessing free will, may make an image of himself within Sophocles' text. Oedipus would this assert his freedom from authorial tyranny. He would be creating what postmodern lit. crit. folks call a mise en abyme. (Mise en abyme describes the process of representation within a representation, where the two mirror one another.)
By asserting his freedom from the tyranny of authorial control, Oedipus would prove himself an Oedipus for a postmodern age. I once heard a fascinating song by Livingston Taylor, James Taylor's brother. The singer sings of a fireman who climbs a tree in order to rescue a cat. However, this fireman finds such an act beneath his dignity, so he refuses to climb the tree and engages in a long, lyrical argument with the singer. This is what i envision for the Oedipus story.
The more I write about this, the more I like it. Unfortunately, I'm a mere parasite on the work of others and lack any creative impulses of my own. 
Research:
Rabel is a specialist in Greek literature. His current research interests lie in Homeric epic and in Greek and Roman literary criticism. His book Plot and Point of View in the Iliad was published by the University of Michigan Press in 1997. He is now collaborating on a collection of essays dealing with the literary criticism of the Roman poet Horace. He is also working on a book on mimesis in the Odyssey, which studies the literary theories of Plato and Aristotle and considers their value for modern students of Homeric epic. In the last few years he has taught courses and seminars on the Iliad, the Odyssey, Cicero, Plato, and Seneca's tragedies.
Special Fields
Greek Literature and Philosophy, Homer, Classical Tradition
Education:
University of Pittsburgh 1966-70 B.A.
University of Michigan 1970-75 M.A. and Ph.D.
Previous Positions:
University of Michigan, Teaching Assistant Lecturer, 1973-1975
University of Kentucky, Associate Professor: Greek and Roman, 1975-1997
University of Kentucky, Professor: Greek and Roman, 1997-
Vanderbilt University, Faculty, Second International Institute for Semiotic and Structuralist Studies, Summer 1981
Governor's Scholars Program Summer 1984, Summer 1985
Dartmouth College Visiting Associate Professor, 1990-91