Robert Rabel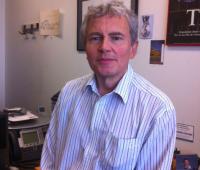 Education:
Ph.D., University of Michigan (1975)
Research:
Rabel is a specialist in Greek literature. His current research interests lie in Homeric epic and in Greek and Roman literary criticism. His book Plot and Point of View in the Iliad was published by the University of Michigan Press in 1997. He is now collaborating on a collection of essays dealing with the literary criticism of the Roman poet Horace. He is also working on a book on mimesis in the Odyssey, which studies the literary theories of Plato and Aristotle and considers their value for modern students of Homeric epic. In the last few years he has taught courses and seminars on the Iliad, the Odyssey, Cicero, Plato, and Seneca's tragedies.
Special Fields
Greek Literature and Philosophy, Homer, Classical Tradition
Education:
University of Pittsburgh 1966-70 B.A.
University of Michigan 1970-75 M.A. and Ph.D.
Previous Positions:
University of Michigan, Teaching Assistant Lecturer, 1973-1975
University of Kentucky, Associate Professor: Greek and Roman, 1975-1997
University of Kentucky, Professor: Greek and Roman, 1997-
Vanderbilt University, Faculty, Second International Institute for Semiotic and Structuralist Studies, Summer 1981
Governor's Scholars Program Summer 1984, Summer 1985
Dartmouth College Visiting Associate Professor, 1990-91