Exploring Neuroscience and German with UK Junior Natasha Boelstler
By Eliana Shapere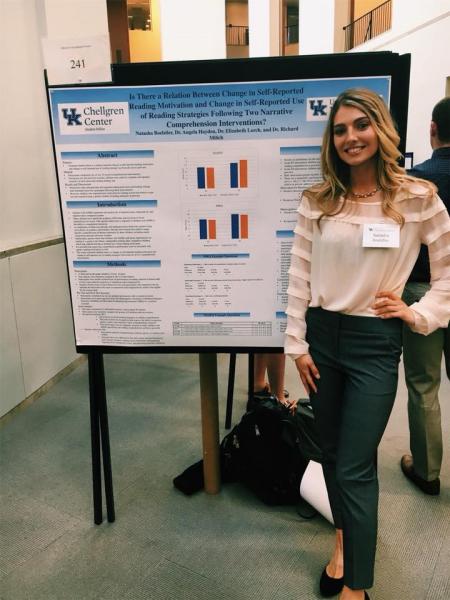 Natasha Boelstler, a junior majoring in neuroscience and minoring in German, has always been an explorer by nature. This wanderlust led her to apply out of state for college, and in 2016 she left her hometown of Detroit to settle in at UK.
"I was drawn to UK because I liked the neuroscience program. There weren't a lot of colleges that offered neuroscience as a major, just as a minor. UK's program stuck out to me not only because it was offered as major, but because the program is research based," Boelstler said. "I hope to become a neurosurgeon, possibly in Germany, and the research aspect is very important to me. In fact, the reason I got involved in research in the first place was because I'm a Chellgren Fellow."
As a Chellgren Fellow, Boelstler developed her interest in research and learned skills such as how to apply for prestigious scholarly awards, interviewing, resume building, and even dinner etiquette. In fact, Boelstler was afforded one of her most memorable academic experiences through the program. After working with Elizabeth Lorch and Richard Milich in the Department of Psychology, she presented her research at the Undergraduate Showcase for Scholars.
"The best part of the showcase was having professors come up to my poster and ask me questions about my research," Boelstler said. "I love talking to people about my research, and the showcase provided the perfect opportunity to do so."
Boelstler has always been interested in medicine, but her interest in neurosurgery did not solidify until middle school. "I read the book 'Gifted Hands' by Dr. Ben Carson, and that's when I knew I wanted to be a neurosurgeon. Dr. Carson was the first surgeon to successfully separate conjoined twins at the head, and I find that amazing. I think it's incredible to hear about his journey. I hope to be just like Dr. Carson when I am a surgeon - I want to make a difference in the medical field."
While her two fields of study may seem very different, they relate to each other in unexpected ways. Boelstler feels her German courses provide a nice contrast to the scientific rigors of her biology and chemistry courses, challenging her to think differently.
"A lot of influential scientists were German. I think my studies will definitely come full circle at some point. The reason why I decided to pick the two is that one day I want to move to Germany and practice medicine while doing research there," she said. 
Boelstler has been studying German since high school. Her father's side of the family immigrated to America from Germany during WWII. "When they came over, they swore that they weren't going to speak any German, they were going to stop all relation to their heritage," Boelstler said. "My grandfather never taught my dad or any of his other siblings how to speak German, and I'm the first person in our family starting to get back into our German roots. I think it is really cool talking to my grandfather about our hometown in Germany. He gets excited whenever I speak German with him. "
Boelstler spent the entire summer before her freshman year of college traveling throughout Germany, visiting Berlin, Dresden, and Munich. She can't wait to go back, and plans on studying abroad in Germany.
"I love southern Germany. I just love the culture and the architecture. I plan to apply for the Heidelberg Scholarship, through the Modern and Classical Languages, Literatures and Cultures (MCLLC) Department."
As a junior, Boelstler has a lot of experience to share with those considering a neuroscience major or pre-med track.
"Neuroscience is one of those majors you kind of have to know right off the bat that it's what you want to go into," she said. "If you don't have a passion and drive for it, when you take the challenging feeder courses, you may get discouraged. You just have to stick with it."
As for studying German, she advised, "I think everyone should take a language course at least once. I just love learning new languages and learning about other cultures."
Outside of academics, Boelstler enjoys service and is the philanthropy assistant for her sorority, Pi Beta Phi.
"I've always loved volunteering so by joining a sorority, I was able to get right into it. We are able to go to the Nest and work with children there. Also, we will get groups together to go into elementary schools and read to children. I was able to do book drives and help children learn to read. I currently volunteer at the American Cancer Society Hope Lodge."
In addition to philanthropy, there are many aspects of her experience that lead Boelster to call UK home. 
"There are just so many things I love about UK," Boelstler said. "I love the campus. I love the  southern culture. All of the professors I've had, especially in the MCLLC Department, want to get to know you and establish a connection. I really like that, because it makes the classes personable and motivates you to learn. You know your professors care and want you to do well."