Korean Language and Culture Classes Offered in Fall 2020 Through Foundation Grant
By Katia Davis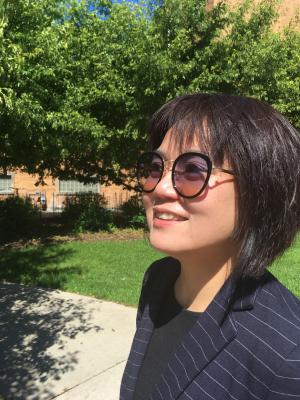 Liang Luo, associate professor of Chinese Studies in the Department of Modern and Classical Languages, Literatures and Cultures (MCLLC), has received a grant from the Korea Foundation to offer Korean courses in the College of Arts & Sciences at the University of Kentucky starting fall 2020.
The $12,000 grant will go toward hiring a contracted part-time instructor to teach two Korean language courses each semester. 
The Korea Foundation was established in 1991 to promote a "better understanding of Korea within the international community and to increase friendship and goodwill between Korea and the rest of the world through exchange programs," according to the Korea Foundation website. 
UK's Korean Language and Culture Club and the UK Korean Student Association, along with Korean faculty and community members, were the driving forces behind obtaining the grant, Luo said.  
"Student leaders should be recognized as the engines behind this initiative," she said.
According to enrollment and demographics data provided by the UK Office of Institutional Research, Analytics and Decision Support, 96 Korean students were enrolled at UK in Fall 2019. 
"For several years, there has been a group of interested faculty and students doing informal courses once a week," said Jeanmarie Rouhier-Willoughby, chair of the MCLLC Department. "This year there have been roughly 60 people meeting to learn Korean in these volunteer classes." 
The Department offers two East Asian studies majors: Chinese Studies and Japan Studies. The chance for students to study three East Asian languages broadens the scope of job opportunities for MCLLC graduates, Rouhier-Willoughby said.
"Our main goal is to enhance the professional training for students interested in East Asia," she said. "Students intending to enroll in graduate programs related to East Asian Studies will also have an edge, since having two or three languages in one's profile will set them apart from the average undergraduate."
Luo said she would like to see more Korean language and culture courses added to the course catalog in the future.
"These introductory-level Korean language courses will build a crucial foundation," Luo said. "I hope we can build a robust Korean language and culture program by continuing to offer beginning and intermediate Korean language courses, and Korean culture courses, as well as diversifying the culture course offerings to include politics and diplomacy, business and economics, media and cultural studies, and other relevant content courses, and adding more advanced-level Korean language courses in the future."
Luo said she had the support of many in this endeavor to introduce Korean language and culture courses.
"I want to acknowledge the crucial support from my Department Chair Jeanmarie Rouhier-Willoughby, our Dean Mark Kornbluh, and our grant officer Kyna Estes, and many others at the College of Arts & Sciences, including important external collaboration and support from Director Seung-kyung Kim of Institute for Korean Studies at Indiana University," Luo said. "There are many more who helped along the way and I am deeply grateful for these wide-ranging support."
This fall, A&S 103-001: Introduction to Korean, A&S 203-001: Intermediate Korean and MUS 330-001: Global K-Pop will be offered.