UK Institute for Latin Studies -- Graduate Certificate in Latin Studies

2013 Diploma Ceremony for the Institute for Latin Studies.  First row (L to R): Whitney Heyser, Christie Pavey,
Prof. Milena Minkova, Ben Saunders, Claire Bishop, Marta Cuatto.  Second row (L to R): Nicole Clowney,Tyler Denton,
William Little, Jan-Piet Knijff, David Crabbe, Giordano Cuatto.
The Graduate Certificate in Latin Studies is obtained through the curriculum of the UK Institute for Latin Studies, a series of graduate courses focusing on Latin literature and language designed to provide anyone with a special interest in Latin with a thorough command of the Latin language in reading, writing and speaking, along with a wide exposure to the cultural riches of the Latin tradition in its totality.
Goals
The graduate curriculum in Latin Studies of the Institute for Latin Studies is aimed at graduate students who need strong Latin skills for any academic discipline in which Latin is important, including not only classics and classical studies, but also history, philosophy, theology, etc. The certificate curriculum will offer to such students an opportunity to gain a superior command of Latin in a highly concentrated format, but in a relatively brief period of time.
The Latin Studies certificate curriculum will be highly useful for those interested in teaching Latin, for the simple reason that it provides a much deeper immersion in Latin language and literature than what has so far been usual for students seeking careers as Latin teachers, and will ensure that all who complete it acquire not merely reading skills, but also considerable active command of the language, a good knowledge of fundamental Latin texts, and a basic understanding of the entire scope of the Latin literary tradition spanning more than two millennia. The Latin Studies curriculum can be effectively combined with a course sequence in teaching methodologies, such as the Master's of Arts in Teaching World Languages (MATWL) program at the University of Kentucky.
Distinctive Features
The curriculum in Latin Studies is composed of courses that give attention to Latin literature of all periods (including ancient, medieval, renaissance and modern), and not the ancient period alone (as typical of so many graduate programs in Latin language and literature). The UK Latin Studies curriculum focuses on Latin writings as the central literary tradition that molded the shape of western European culture (and its offshoots) for about two millennia, and the common link between many humanities disciplines. It highlights Latin as a multi-cultural and an interdisciplinary tradition.
The curriculum not only involves extensive reading in Latin, but also requires those taking part in it to develop, and to constantly practice fluency in writing and speaking in Latin. The curriculum is founded on the conviction that a person's assiduous use of any language in many modes, including writing, listening and speaking (not merely reading and translating), will enhance that person's comprehension of the language and appreciation of its nuances. The use of Active Latin is not merely a matter of pedagogy: it is a matter of forming and maintaining a close relationship with the Latin language. Helping our students to develop this relationship is our preoccupation in the Institute.
Courses and Credit Hours
A prerequisite for entry into the Latin Studies curriculum is the successful completion of CLA 501 (Introduction to Latin Prose Composition), or the attainment of an equivalent level of competence as determined by the Director of the Latin Studies Curriculum.
A candidate who completes 9 credit hours of courses that pertain to the Latin Studies curriculum and earns a GPA in those same courses of at least 3.33 may earn a Graduate Certificate in Latin Studies.
The courses that pertain to the Latin Studies curriculum are CLA 521, CLA 611, and CLA 612.
An independent study course under the number CLA 580 or CLA 695 may, with the permission of the Director of the Latin Studies Curriculum, count towards the minimum of 9 credit hours of Latin Studies course work needed to earn the Graduate Certificate in Latin Studies.
Extra Opportunities
Those enrolled in the curriculum not only complete three Latin courses, but also take part in Latin-only activities not connected with official academic courses. These events include lunches and conversational workshops held several times a week. During the summers, Institute students have an excellent opportunity to take part in the 'conventiculum Latinum,' the well-known summer immersion workshop in spoken Latin held on the campus of UK.
More about the conversational weekly workshops :professors who teach in the Latin Studies curriculum usually hold supplementary sessions several times a week designed to acclimatize participants to the use of Latin as a communicative language. These supplementary sessions in Latin conversation require no preparatory work or study time outside the sessions themselves. Regular attendance (with allowance for excused absences according to University regulations) at these supplementary conversational sessions, when they are offered, is a requirement for earning the Graduate Certificate in Latin Studies.
Student Learning Outcomes for the Graduate Certificate in Latin Studies
In order to complete the Graduate Certificate in Latin Studies, candidates must have the following achievements:
Have understanding and reading comprehension of any text of any period written in Latin.
Have competence in writing correct Latin prose and in the use of Latin correctly (i.e. according to standard grammatical norms) as a language of oral communication.
Be able analyze not only Latin texts written in the so-called 'golden age' (i.e. first century BCE and the first decades CE), or the 'silver age' (i.e. first and second centuries CE), or the later Roman period, but also be able to similarly analyze works of Latin literature produced in at least one post-antique period that saw major production of Latin writings (such as the twelfth and early thirteenth centuries CE, or the European Renaissance that begin in Italy at the end of the fourteenth century CE).
Be generally competent in the history of Latin literature, i.e., have at least a general understanding of the main periods, geographical areas, and phases of literary production in Latin from the early Roman republic to the present time, and the general relationship between such Latin literary productivity and the other main developments or trends in European civilization.
Be able to teach Latin language and literature on elementary, middle, and high-school level, and at introductory college level.

Be able to conduct independent research relating to Latin studies.
For further information about the Institute offerings and application information, please write to ether Professor Milena Minkova (
mmink2@uky.edu
) or Professor Terence Tunberg (
terence.tunberg@gmail.com
)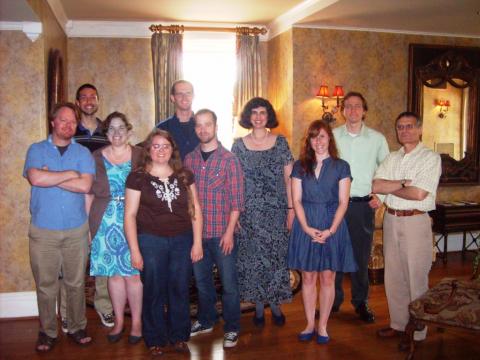 Ceremony of awarding diplomas in the Institute for Latin Studies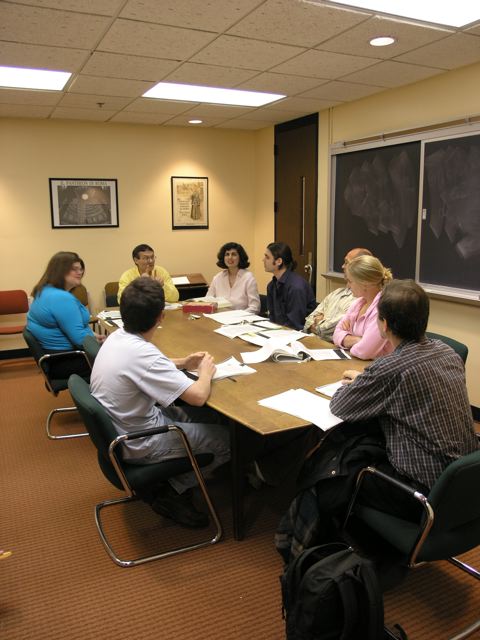 Class discussion in the Institute for Latin Studies
Students of the Institute for Latin Studies recording Erasmus's
Colloquia familiaria