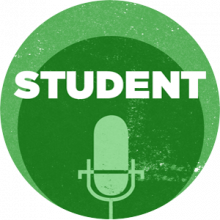 Gwendolyn Schaefer knew she wanted to study abroad in the Middle East, but the Arab Spring presented a potential threat to her personal security. Her first two choices were Egypt and Syria, but both were deep in the throes of political unrest. Eventually, she landed in Amman, Jordan through Education Abroad at UK with AMIDEAST. There, she was paired with an internship at Jordan's Ministry of Political Development. The trip made such a mark on Schaefer that she quickly returned.

Schaefer's second trip was helped by a summer research grant from UK's Office of Undergraduate Research. The grant allowed her to return and carry out her own research project studying female Iraqi refugees in Jordan.

In this podcast, Schaefer, now a senior at the University of Kentucky majoring in both Geography and International Studies, discusses her travels and how her two different majors prepared her for the work she did overseas and why other students should consider doing the same.
This podcast was produced by Patrick O'Dowd.

This work is licensed under a Creative Commons Attribution-NonCommercial-ShareAlike 3.0 Unported License.