This article appears courtesy of the UK Alumni Association.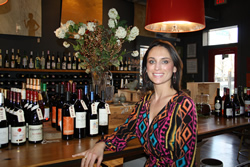 The education of Renée Saunier Brewer '03 AG into the sophisticated world of the juice of the grape has taken her all over the globe at a very young age, but each step of the way was paved with more forethought and practicality and less wanderlust than it would first appear. Now settled in Lexington, she is the owner of Wine + Market, a quaint establishment in the downtown area that not only sells wines and other spirits from all over the world, but also creates tasty selections that can be ordered off a café menu that showcases local and international delicacies.
Even choosing where to go for college was a decision made at a very sensible level. "I was born and raised in Lexington and graduated from Paul Laurence Dunbar, class of '98. UK was a practical choice for me because it was affordable and offered everything I needed educationally," she says.
Brewer pursued double majors successfully, earning a bachelor's degree in agricultural economics and one in French. She was a working student, so didn't have much time for extra-curricular activities but was involved in several study abroad programs, one to Grenoble, France, in 2001 through the Gatton College of Business and Economics and one to Dijon, France, in 2002 through the College of Agriculture. She later had a teaching assistantship in Dijon in 2003-04 through the UK Office of International Affairs.
She says she had outstanding professors at UK who helped her develop a career path. "In the French department, Sadia Zoubir-Shaw's creativity and immense enthusiasm was an influential reminder to put my 100 percent into anything I did and would ever do," Brewer says. "Steve Isaacs in the College of Agriculture is such a kind and practical professor who has a genuine interest in teaching and mentoring students. He was the first professor to encourage me to consider focusing on the Kentucky wine industry, which was what started my academic interest in wine!"
Graduating from UK meant she once again needed to look for a direction, drawing upon her practical nature but also trying to satisfy her desire to travel.
"I've always identified with French culture. My family is French, and I had previously travelled several times to Europe to visit them," she says. "I wanted to take a year off to decide what I wanted to study on a graduate level. I needed an income, so I decided to move to France to work as a teaching assistant and figure out my next steps. For the relevancy's sake of my studies in French and Ag Econ, I wanted to work in either the coffee, chocolate or wine industry. Wine trumped when I applied to —and was accepted — to two wine marketing graduate schools based in France."
Brewer says she basically established a home away from home in France and pursued a program with the International Organization of Wine and Vine based in Paris. "It wasn't my end goal all along, but my decision wasn't on a whim either. There were stepping stones and one thing just led to another," she says.
In the graduate program, she gained a wealth of knowledge, learning industry techniques, meeting representatives from various wine companies, and touring other countries, as well, eager to soak up as much information as she could about vineyards and wine making.
Returning to the United States, she moved to California to intern in the wine industry. "The 'internships' were more like the real deal, if you ask me!" she says. "I worked the 2005 harvest for the boutique Napa Valley winery, Blankiet. I was responsible for the manual production of their wines — everything from sorting grapes, crushing, fermentation, racking, ageing and bottling. I loved it."
After harvest was over, she was employed at one of the nation's leading wine PR firms, where she worked with local, national and international wine accounts. "That, as well, I loved. Both positions were incredibly different, but very relevant, to the wine world," says Brewer.
She eventually found her way back to her hometown and began working as a sales representative for a boutique wine wholesaler where she established the Lexington market and its surrounding areas, as well as northern Kentucky. "I worked with an amazing product portfolio, and my retail and restaurant accounts quickly realized that I was proud to stand behind my products," she says. "In addition to helping expose Lexington to quality boutique wines, I worked with my boss to bring interesting new wines into Kentucky. I also conducted lots of tastings and classes."
Her first introduction to Wine + Market, was when she began working there for the former owners. When it came time for them to move on and put the market up for sale, Brewer was the best likely candidate to become the next owner, adding her own special touches to the already appealing market that has a somewhat "old-world" flair. As much work as the market demands of her, she still enjoys her daily encounters with customers needing help picking out an appropriate wine.
"I have put an enormous amount of time in my product selection, and I know about each and every product I sell. When a customer inquires about a product I feel as if I am thoroughly equipped to give them the best answer possible, no matter what the question is," Brewer says. "It is gratifying when a customer walks away happy, and especially so when they return for more. I deeply appreciate that my customers trust me. This is why I'm in the business, owning my own shop."
Like many business owners, she wears many "hats" and her efforts are spread everywhere, but she tries not to think too much about all the hours and all the work that is necessary to make the market what it is today. "This includes tons of paperwork, product ordering and decision making and various other things. When the not-so-fun administrative duties are done, I work on marketing and creative efforts for the store. This includes writing my wine classes, newsletter writing, social media efforts, organizing events and building strategic relationships with other local businesses," she says. "And, last but not least, I love communicating with customers. Communicating with customers on a retail level about wines I love is so satisfying, especially when they keep coming back for more."
Relying on coffee at the beginning of the day, she says she typically ends the day with a little wine. "But, I don't have a favorite wine," she says. "It all really depends on my mood, what I'm eating, or the weather. I have countless go-to wines!"
Brewer says some of the life lessons she has learned over the course of her UK education and her early career center on working hard, happily, honestly and, of course, practically. And she is grateful to one College of Agriculture professor who inspired her to see the big picture. "Dr. Jerry Skees is a remarkable professor who has a series of heavy hands in the global agri-business industry, which was instantly appealing to my international interests. His classes were tough, but very rewarding and, to this day, serve to remind me how inter-connected the world is," she says.