Student Organizations
Russian Club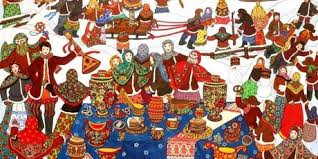 Upcoming Events
RUSSIAN TEA/РУССКИЙ ЧАЙ  The nextRussian Tea of the Spring 2018 semester will be held on
MONDAY 26 March 2018 in POT 245.    Join us!  Милости просим!
Russian Club Central Committee
For more information on club activities, contact a member of the Russian Club Central Committee:
Noah Falcon                  Сергей            nfalcon117@uky.edu                President
Nick Swetnam               Николай           njsw224@g.uky.edu
Jacqulyn Noffsinger      Жанна               jacqulyn.noffsinger@uky.edu
Anna Wagner                Аня                   anna.wagner@uky.edu
Juan Ahumada               Владимир         juan.ahumada@uky.edu
Dennis Skoroplyas        Денис                dennis.skoroplyas@uky.edu
Garrison Wright            Герасим             garrison.wright@uky.edu
Anthony Trufanof         Антон                anthony.trufanov@uky.edu
Evan Lenzen                 Иван                  eble222@g.uky.edu
Diana Sahibnazarova    Диана                dvsa225@g.uky.edu
Megan Peters                 Мила                 meganpeters9@uky.edu
If you have ideas or suggestions for the club, please contact them.
Need Help in Russian Class?
There is tutoring for all levels of Russian. For help contact Professor Ruder at cynthia.ruder@uky.edu
Want to stay in touch?
--Check out our Facebook page at https://www.facebook.com/groups/127713130687511/
--Contact Prof. Ruder at cynthia.ruder@uky.edu to be added to the UK Russian Club Listserv
--Listen to Russian Radio on WRFL, Thursdays, 5-7 p.m.
--Stay tuned for the UK Russian Club Twitter and Instagram feeds!