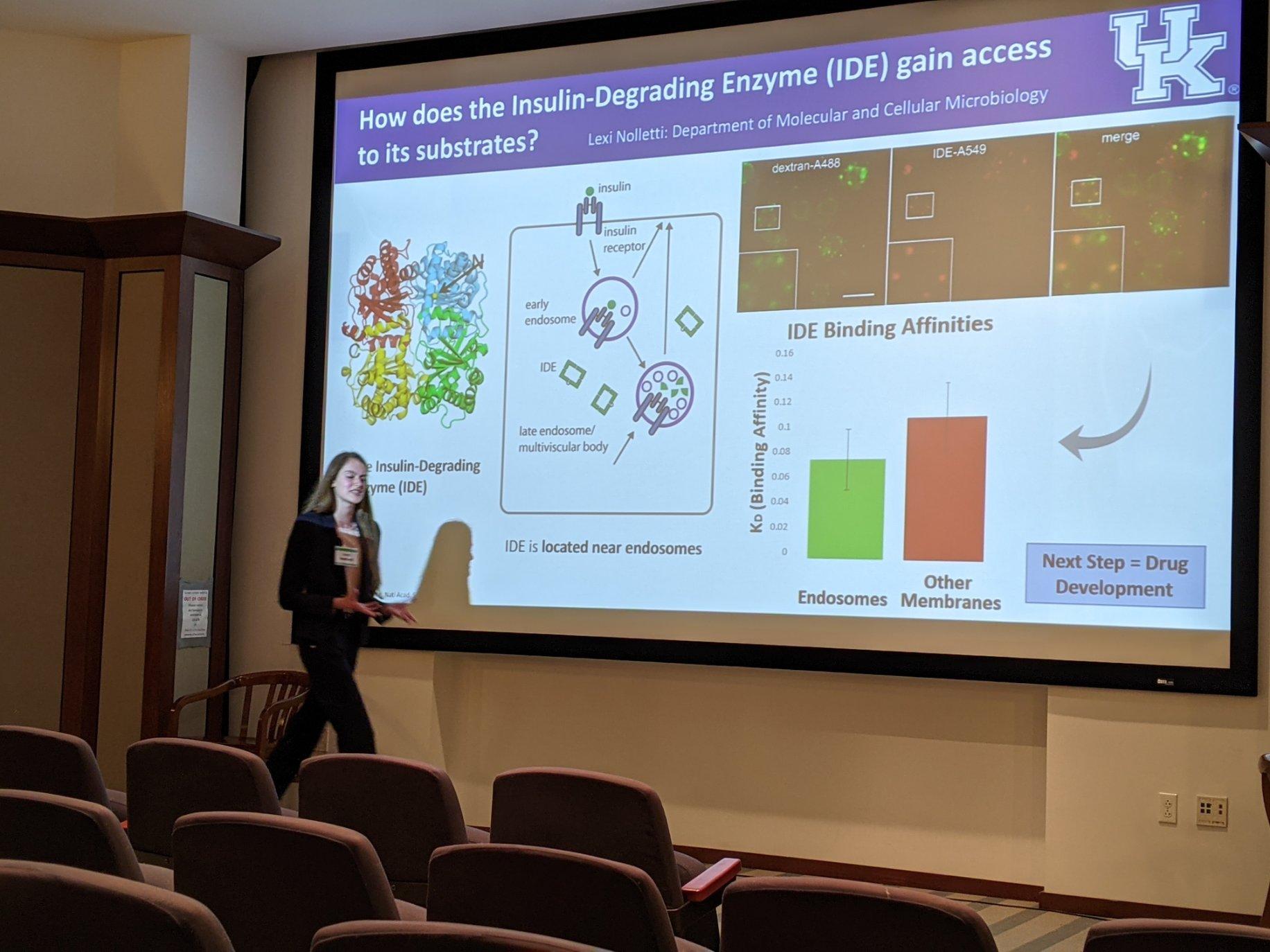 LEXINGTON, Ky. – In October 2021, The University of Kentucky announced the top 10 finalists for the fourth annual 5-minute Fast Track competition. Run by the Office of Undergraduate Research, the 5-Minute Fast cultivates students' presentation and research communication skills and challenges them to describe their research within five minutes.  
UK College of Arts & Sciences students Lauren Hudson and Lexi Nolletti were among the finalists. They shared their experiences with the event and their research topics at UK. 
Q: Could tell us a little about yourselves? 
Hudson: "I am a senior neuroscience and biology dual degree with plans to attend UK College of Medicine in the fall. Living on and around UK's campus for four years has allowed me to participate in student organizations like Alpha Phi Omega, a co-ed service fraternity, and Phi Sigma Rho, a STEM sorority. Originally, I am from Northern Kentucky. When I am not studying, I enjoy reading, writing, and watching Reds baseball." 
Nolletti: "I'm a junior neuroscience student from Wooster, Ohio (near Cleveland), with minors in Spanish and biology. I plan to attend medical school after undergrad. I'm super involved on campus, so a lot of my free time is spent with the orgs I'm involved with. I'm on the executive boards for Alpha Phi Omega, NeuroCATS, and Swing Dance Club. I'm also an active member of the Work in Progress Society, a creative writing club in the Honors College." 
Q: Describe the research you did for the competition. 
Hudson: "I began research in the Markey Cancer Center under Dr. Nathan Vanderford during spring of my freshman year. My research centers around increasing cancer education in Appalachian Kentucky middle and high school students." 
Nolletti: "I research with Dr. David Rodgers in the Department of Molecular and Cellular Biochemistry, which is housed within the College of Medicine. This is my third semester with the lab, but my fourth semester participating in undergraduate research. We study the Insulin-Degrading Enzyme, a widely expressed protein found in most mammals. 
Q: Talk about your inspiration for your research and your goals.  
Hudson: "Before arriving at UK, I knew very little about the high cancer incidence and mortality rates in Kentucky, but I soon realized education could be the key to reducing this disparity. One of my favorite projects I have worked on in the field is creating a three-part cancer education curriculum for Appalachian Kentucky middle- and high-school science and health classrooms. The goal of this curriculum is to make it widely available to Kentucky teachers, who will then use it to educate their students on cancer biology, risk factors and treatments. Overall, my research in the Markey Cancer Center has assured me of my desire to pursue a career in medicine and, potentially, oncology." 
Nolletti: "I was interested in this project because IDE has been linked to Alzheimer's disease and Type II diabetes, which both run in my family. Our current goal is to prove how IDE gains access to its substrates, which are typically enclosed within membrane-bound compartments inside the cells. I've already had the opportunity to present at events like UK's Showcase of Undergraduate Research and UK's Clinical-Translational Neuroscience Symposium and was just accepted to present at the National Conference for Undergraduate Research." 
Q: Could you describe the feeling of being a finalist in this competition?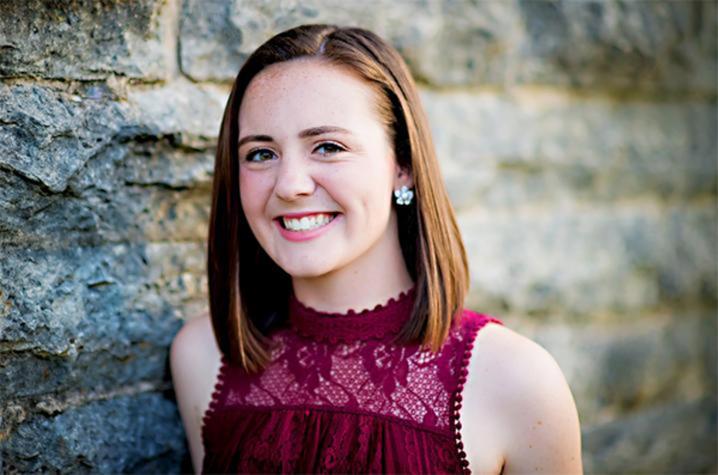 Hudson: "Being a finalist in the fast-track competition was an honor and a blessing. Not only did it allow me to share my research with others, but it introduced me to a group of like-minded students, many of whom are women in STEM. My favorite thing about the competition was the supportive and cheerful atmosphere. Although we all wanted to win, we were interested in each other's research and wanted everyone to perform to the best of their ability. I credit this sense of comradery to the amazing staff at the Office of Undergraduate Research." 
Nolletti: "I was a Speech and Debate state champion and three-time national qualifier when I was in high school, so it made me so happy and nostalgic to compete in public speaking again. My roommates listened to my speech at least twenty times and helped me workshop and polish the performance. Every competitor was an incredible researcher and speaker, so I felt incredibly honored to have advanced to the finals." 
Q: Talk about what you believe is wildly possible at UK. 
Hudson: "I believe that at the University of Kentucky, it is wildly possible to create an encouraging yet competitive community for undergraduate researchers to learn and thrive." 
Nolletti: "I attended the Five-Minute Fast Track final round as a spectator my freshman year, which was a big motivator for participating in this year's competition. Those speakers also opened my eyes to all the research possibilities on campus. I feel incredibly lucky to have been elevated to that rank, and hope to have inspired underclassmen to get involved with research." 
Q: Lexi, could you talk about how it has been for you as a member of the Gaines Center? 
Nolletti: "Applying to the Gaines Fellowship in the Humanities was one of the best decisions I've made since coming to UK. I earned an International Baccalaureate Diploma in high school, which is an interdisciplinary program with a capstone project and a small cohort I spent all day everyday with, for two years. I was craving that kind of experience in college and am so lucky to have found it! Our seminar theme for the year is Mountains, and we've studied mountains as geological formations and cultural regions from ecological, historical, literature, sociological, and anthropological perspectives. Our cohort is also small (12 people) so we've gotten really close during class meetings and our occasional weekend getaways. Senior year, we write a thesis, and I do a lot of creative writing, so I plan to write a novel. I'm very much looking forward to that challenge and know that the Gaines Center will be a great support system throughout that process."