Location:
Niles Fine Arts Gallery
New Frontiers for Mexican-American Literature
srhuts2
Mon, 03/26/2018 - 04:38 pm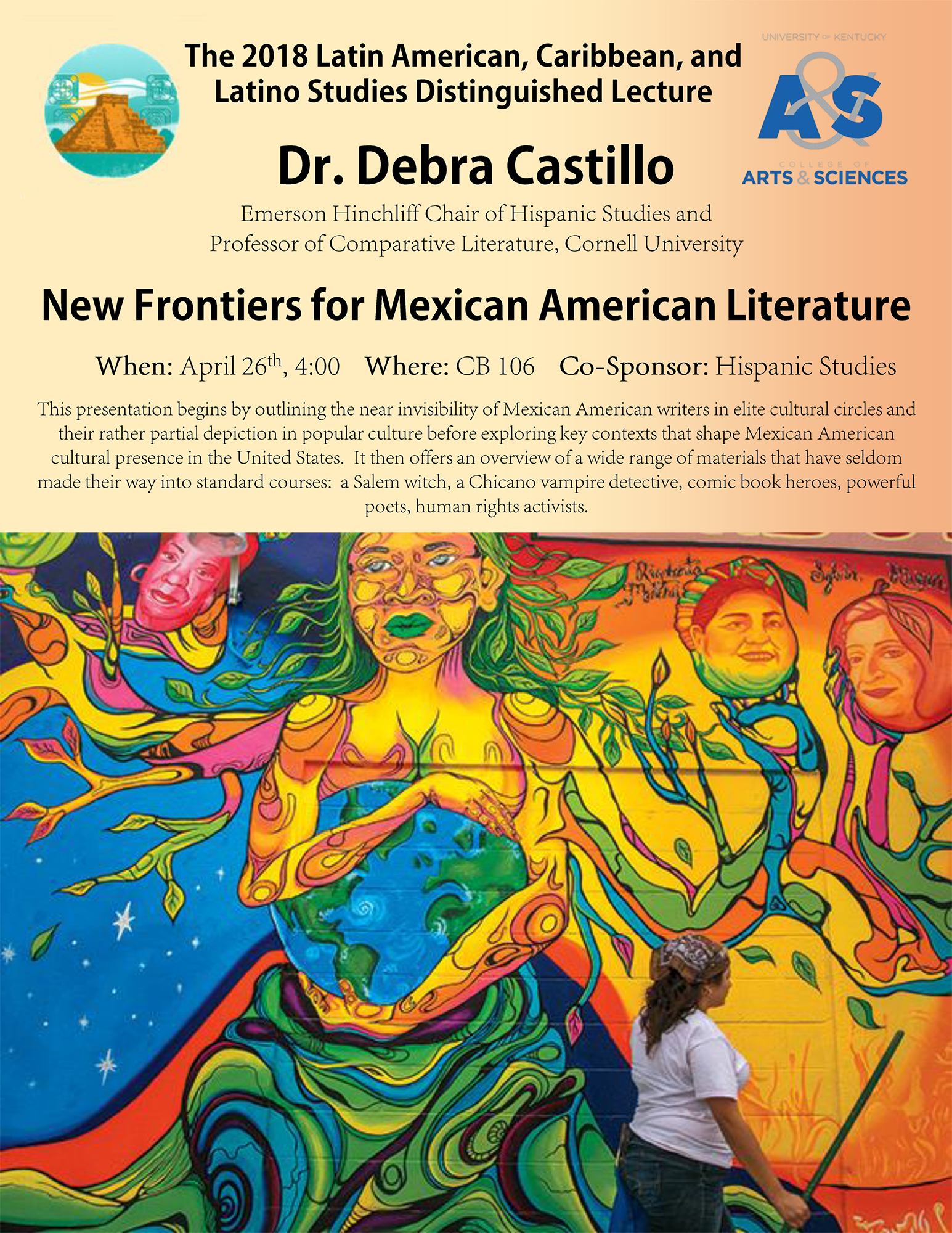 Location:
Whitehall CB 106
Pre-Hispanic Obsidian Quarrying at the Zaragoza-Oyameles Source Area, Puebla, Mexico: What we've learned from three seasons of survey
srhuts2
Thu, 10/20/2016 - 08:56 am
Location:
White Hall CB 114
Type of Event (for grouping events):
Ayotzinapa Memory Event
lmo234
Tue, 09/29/2015 - 02:21 pm
Come and learn about the disappeared Mexican students and teachers and the campaign to bring them back! 
Location:
Miller Hall Lawn across from Patterson Office Tower
Enforcing equality: court rulings, indigenous women, and political participation in Oaxaca, Mexico
lmo234
Mon, 09/14/2015 - 11:12 am
Within the last decade, Mexico´s federal electoral courts have taken unprecedented steps to promote affirmative action in favor of women´s political participation. At the federal, state, and municipal levels, this has largely meant rulings that support legislation on gender-based quotas for public posts.  A stumbling block to this affirmative action initiative has been the predominately indigenous municipalities that hold local elections through tradition and custom instead of universal suffrage and secret ballot. Legally recognized as part of indigenous people´s collective right to self-determination, election through custom and tradition has been difficult to fit into existing juridical logics of gender equality.  In the past three years, however, a growing number of electoral conflicts appealed to the federal courts have brought the question of indigenous women´s political participation to the forefront. I examine several of these cases to explore how the courts mediate between the question of collective self-determination and individual women´s rights, how they seek to promote a liberal notion of gender equality, and how women and communities are responding to their rulings in unexpected ways.  I argue that what is at stake is more than just women´s political participation; rather, these rulings reflect contemporary contestations over gender, indigeneity, modernity, and democracy in Mexico more broadly.  
Holly Worthen is a Professor at the Instituto de Investigaciones Sociológicas at the Universidad Autónoma Benito Juárez de Oaxaca in the state of Oaxaca, Mexico.  She received her Phd in Geography from the University of North Carolina at Chapel Hill.  Her work focuses on gender, migration, development and indigenous politics.
 
Location:
231 White Hall Classroom Building
Type of Event (for grouping events):
Office Hours with Matt Giancarlo and Susan Roberts
mcgian2
Thu, 02/12/2015 - 10:31 am
Consul of Mexico, Mr. Jorge Sanchez Catano
Mr. Jorge Sanchez Catano, Consul of Mexico, visits University of Kentucky Proyecta 100,000 students, 21 November 2014
Anonymous (not verified)
Tue, 11/25/2014 - 01:19 pm
Proyecta Welcome
The Center for English as a Second Language is pleased to welcome 53 students from Mexico. The students arrived over the weekend of November 9th and will be visiting scholars for one month.
bsst222
Tue, 11/18/2014 - 02:11 pm
Carvings with Personality: Alebrijes from Oaxaca, Mexico
frclopz
Mon, 03/24/2014 - 10:33 am
Breathitt Lecture 2014: Evan Sweet, Slum or Settlement?
Breathitt Lecture 2014 Evan Sweet Slum or Settlement? Rewriting the Narrative of Urban Poverty with a Focus on Community Organizing and Autonomy in Oaxaca, Mexico.
University of Kentucky
Anonymous (not verified)
Wed, 02/12/2014 - 01:26 pm
Subscribe to mexico