100% Democracy: The Case for Universal Voting
dsvoss
Mon, 04/11/2022 - 01:36 pm
Washington Post columnist E.J. Dionne, Jr., presents his case for "universal voting," as outlined in the book 100% Democracy coauthored with Miles Rapoport.  Dionne will be joined by a panel of two University of Kentucky election experts, Prof. Emily Beaulieu Bacchus of the Political Science Department (a cosponsor of the event along with the Martin School of Public Policy & Administration) and UK Law Prof. Josh Douglas, who put the event together with the UK Election Law Society.  LUNCH PROVIDED.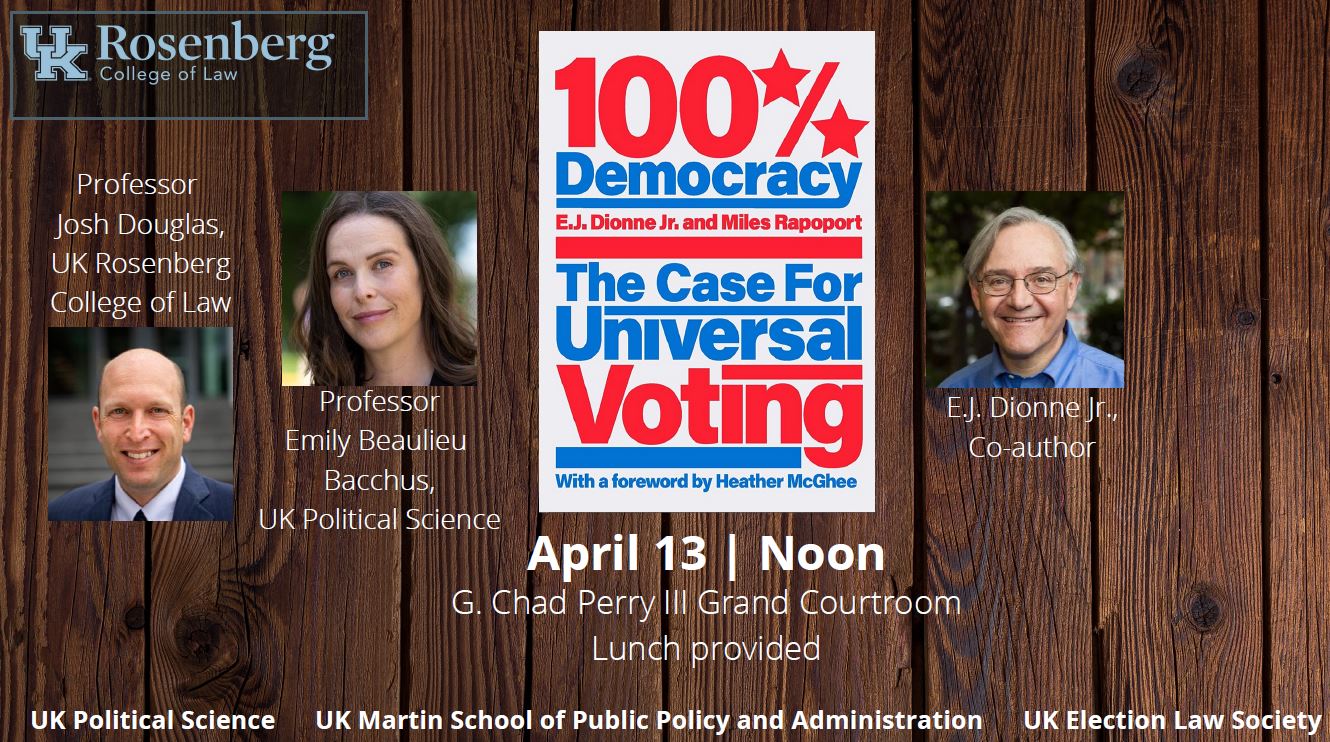 Location:
G. Chad Perry III Grant Courtroom, UK Law School
Why UK Students Relish Unique Internship Opportunity in DC
jtbr229
Mon, 01/28/2019 - 10:24 am
Late Prof. Sid Ulmer Honored by State Senate
Dateling: Frankfort, KY
By D. Stephen Voss, Political Science Department Publicity Director
Kentucky's State Senate recognized the passing of Emeritus Prof. S. Sidney Ulmer, a long-serving and distinguished member of the UK Political Science Department, on February 7 by adopting a resolution in his honor authored by Sen Tom Buford (R-Nicholasville).
dsvoss
Thu, 02/08/2018 - 11:06 pm
Social Conflict & Democracy: The Enduring Impact of Race on U.S. Politics
dsvoss
Thu, 09/28/2017 - 09:25 am
Part of the Political Science department's series on Social Conflict and Democracy, this panel focuses on the enduring impact that race and slavery hold over U.S. politics.  Featuring guest speaker Maya Sen of Harvard, presenting on "The Political Legacy of Southern Slavery," the panel include three Univ. of Kentucky faculty experts as well: Christia Spears Brown (Psychology), Melynda Price (UK Law), and Ray Block (AAAS & Political Science).
Cosponsored by the Quantitative Initiative for Social & Policy Research (QIPSR) and the College of Arts & Science's Keys to Our Common Future initiative.
Location:
Kincaid Auditorium (#111 Gatton B&E)
Democracy, Citizenship and Violence in Latin America
srhuts2
Wed, 08/23/2017 - 08:32 am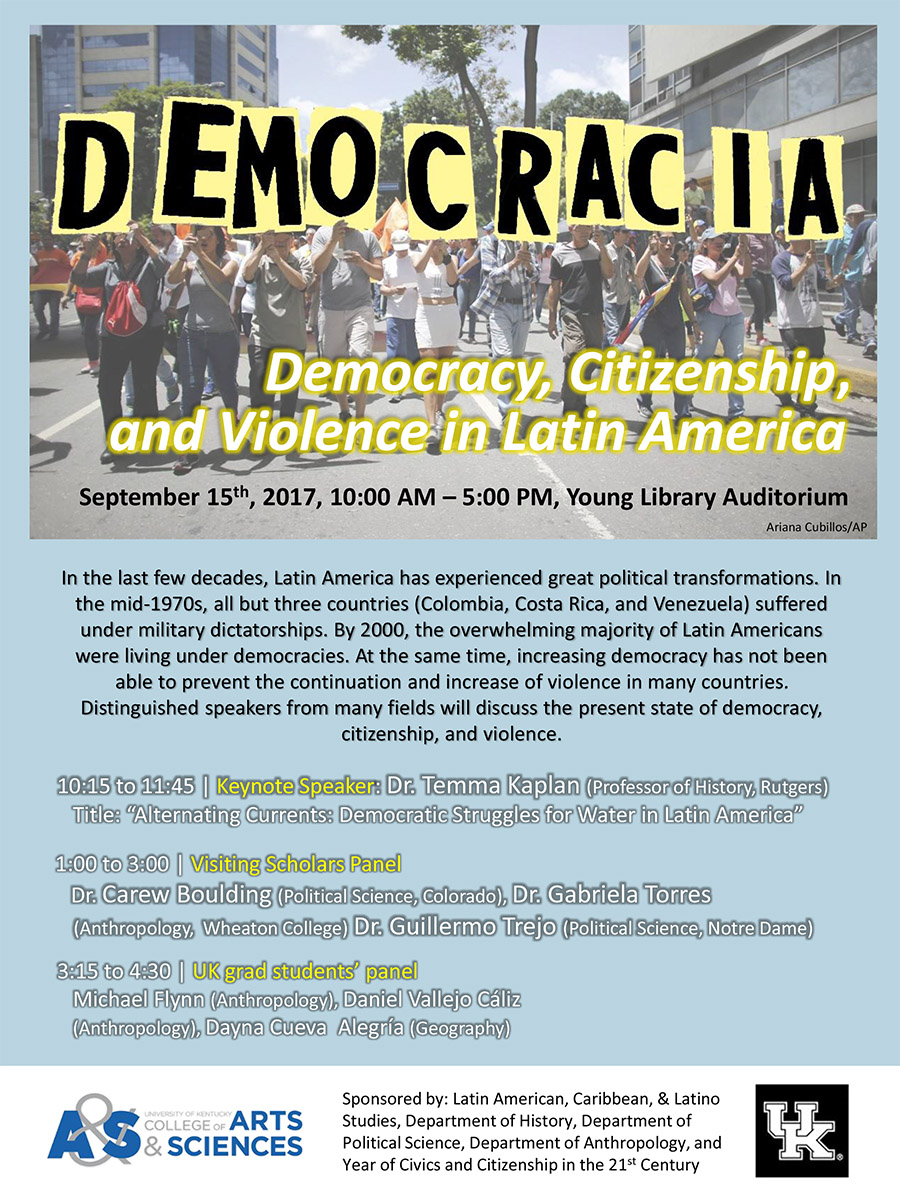 Location:
Young Library Auditorium
Type of Event (for grouping events):
A&S Political Science's Stephen Voss is 2017 Lyons Award Recipient
jstayl1
Wed, 04/19/2017 - 02:34 pm
Democracy's Future? Acclaimed Professors Lead Discussion of Trump's Populism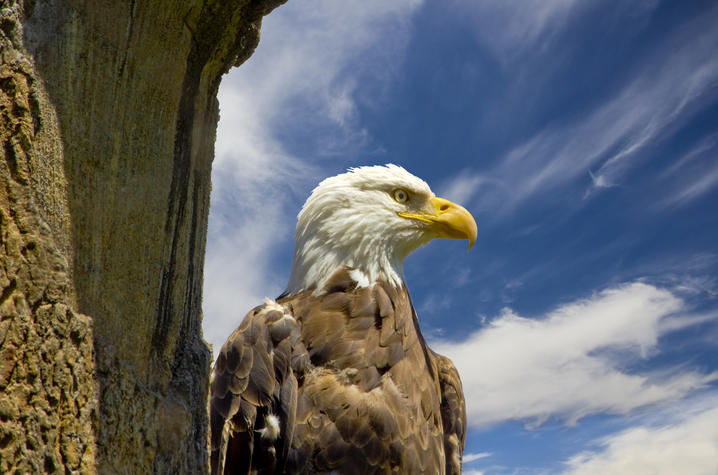 By Gail Hairston
The third event for the College of Arts and Sciences Civic Life seminar series will be hosted by Professor of Sociology Carlos de la Torre and Professor of History Tracy Campbell. The event will be noon to 1 p.m. Wednesday, April 5, in the UK Athletics Auditorium of the William T. Young Library.
mrfo225
Tue, 04/04/2017 - 01:58 pm
UK College of Law, A&S Team Up To Offer 6-Year BA + JD Program
A new collaboration between the University of Kentucky College of Law and College of Arts and Sciences will allow students seeking a law degree to save time and money by graduating in six years instead of seven.
trra223
Wed, 11/18/2015 - 11:47 am
Lexington Evolves From College Town to 'University City'
 It's a partnership unlike any other, relying on each other to complete pivotal projects and daily deeds, constantly working together to find solutions.
trra223
Mon, 11/09/2015 - 01:34 pm
Subscribe to political science