by Derrick Meads
(May 27, 2014) — Fifteen UK faculty members will teach students at Shanghai University (SHU) in China for a week this summer through the UK Confucius Institute's (UKCI) "UK Faculty China Short-Term Teaching Program," during the week of June 16-20.
The program fosters global literacy throughout UK's multiple disciplines by embedding UK faculty members in SHU's departments where they teach students for one week, meet professional colleagues, identify shared research interests and gain key insights into China that they can then share with their students in Kentucky.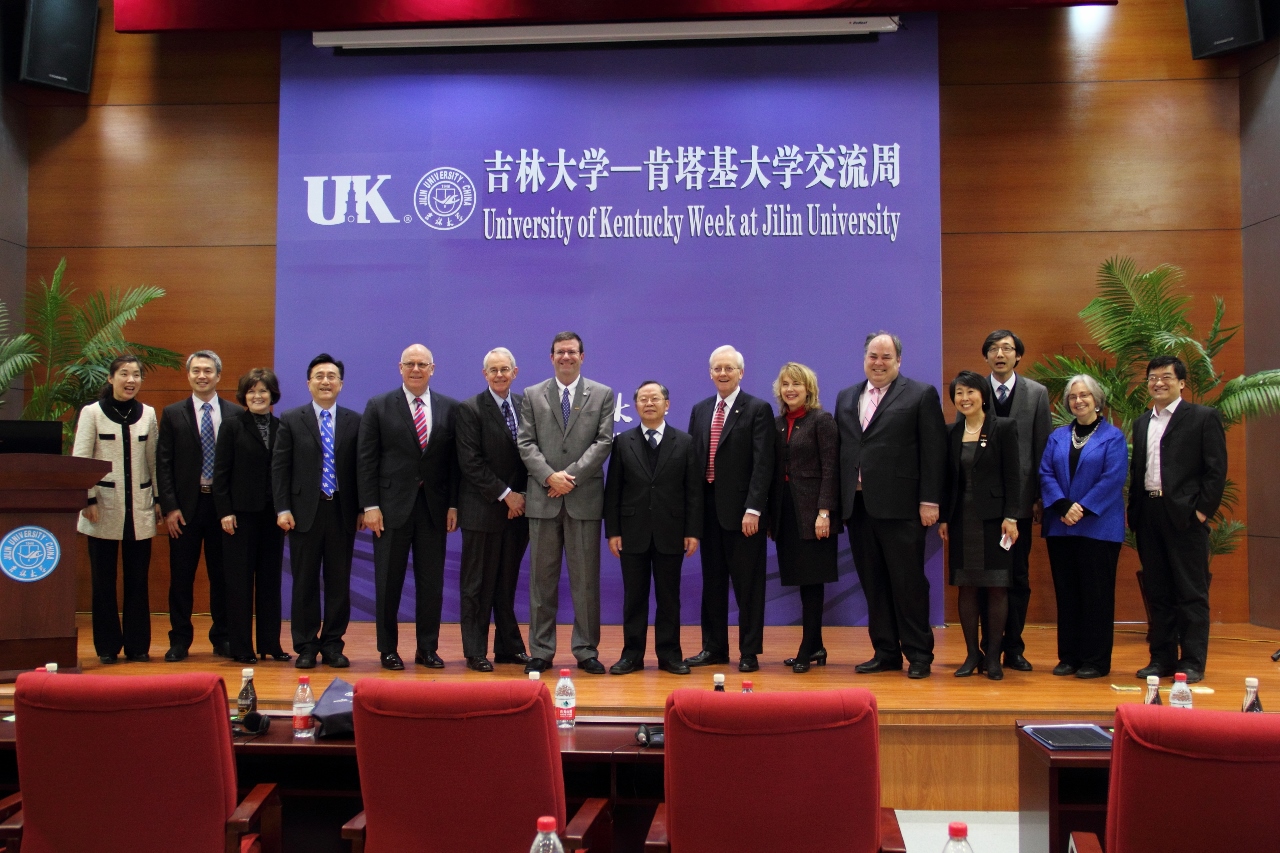 "Students need to know how knowledge is created, disseminated and used in a commercial and global environment of commerce," said Susan Carvalho, associate provost for internationalization. "By sending UK faculty from a broad range of disciplines to teach at Shanghai University – some of whom have never been to China – they will return with global experiences and perspectives that will be infused across campus."
Following the teaching week, UK Provost Christine Riordan, College of Arts & Sciences Dean Mark Kornbluh, College of Fine Arts Dean Michael Tick, Carvalho, and UKCI Director Huajing Maske will join the visiting UK faculty to celebrate "UK Week at SHU," from June 23-27.
During "UK Week at SHU" members of the UK delegation will give lectures providing Shanghai University faculty the opportunity to connect with UK's disciplinary and academic expertise.
The UK Confucius Institute held a similar "UK Week" at Jilin University in Spring 2012. Seven UK deans led by Interim Provost Tim Tracy spent five days at Jilin University giving academic talks, and meeting with their counterparts to discuss collaborative opportunities.
The UK-JLU Collaborative Framework was established as a result of "UK Week" at Jilin University, which includes a 2+2 agreement and faculty exchange agreement with the Gatton College of Business and Economics; and a 4+2 agreement with the College of Public Health. Partnerships with UK's Computer Science Department, College of Communication and Information and College of Arts & Sciences are still be negotiated.
"Based on our great success at Jilin, the UK faculty who are teaching at SHU this summer and our strategic partnership with SHU, we decided to hold another "UK Week" at SHU," said Maske, "This week-long event will deepen our ties with SHU and provide a base for future research collaborations." 
Ernest Yanarella, chair of the Department of Political Science, taught a course as part of the "UK Faculty China Short-Term Teaching Program" in 2012. The title of his course was, "Bridging Modernity, Globalization, and Sustainable Development in China and the West."
"I must say that teaching in China to young Chinese college students was one of the most meaningful educational experiences I have had as a scholar and university professor," Yanarella said. "It proved to be a splendid opportunity for an American scholar and teacher to engage in a real dialogue with future leaders of the People's Republic of China."
Yanarella said that such partnerships are a win-win situation for Chinese universities and UK. 
"The opportunity for UK faculty to teach at Chinese universities opens up possibilities of promoting greater cultural understanding across political and other divides and generating collaborative teaching and research projects with Chinese scholars," he said.
Maske is hoping "UK Week at SHU" will help UK faculty find opportunities to access research dollars that are available in China through collaborative research. "There are considerable resources that UK faculty can access in China that will help them fund their research, access data and increase opportunities to publish."
The opening ceremony and reception for "UK Week at SHU" will also be an opportunity to celebrate and connect with UK's alumni in China.
"We are very excited about inviting all of our alumni in China to the opening ceremony and reception," said Maske. "The number of alumni in China is rapidly growing every year, this is such a great way to create community and opportunity for everyone involved."
The event will be hosted by UKCI, the Office of China Initiatives and Shanghai University.