Conventiculum Latinum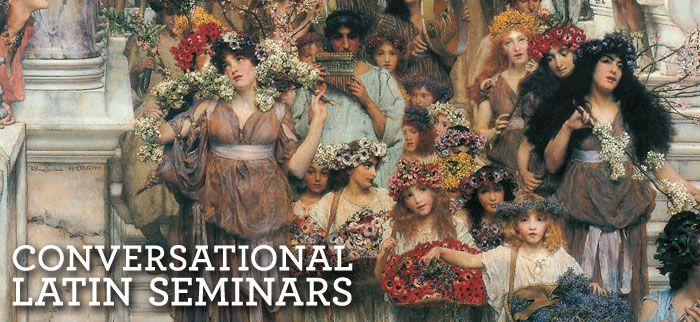 Conventiculum Latinum Lexintoniense -- Conversational Latin Seminars
When Dr. Terence Tunberg started the full-immersion summer Latin seminar at UK in 1996 with a handful of enthusiasts, little did he expect that in fifteen years the seminar will be drawing university and college professors, high, middle and elementary school teachers, graduate, undergraduate and high school students, researchers, and plenty of aficionados from all over the United States, as well as from all around the world. Over the last few years, the number of participants has stayed around eighty. People have traveled from Brazil, Mexico, France, England, Italy, Germany, Belgium, Japan, Australia and indeed New Zealand in order to become for eight days a part of a vibrant Latin community, a little Republic of Letters. In many intellectual circles in these countries, Kentucky has indeed become a synonym for "Active Latin."
The summer Latin seminar provides a stimulating occasion in which participants can live for an extended period of time in an all-Latin environment, speaking and hearing no language but Latin. Not surprisingly, many participants will find that cultivating the active use of Latin in both speaking and writing helps their reading fluency. Not only teachers, who wish to develop their ability to use Latin actively and extempore in the classroom in order to enliven the learning experience for students, and to augment whatever teaching methods they prefer to use, but anyone at all devoted to Latin, such as researchers and those who read Latin for personal enrichment, can benefit from the seminar. In fact, the most important function of the seminar is to help those who take part in it to acquire a more instinctive command of the Latin language. With such a command of Latin a person can understand Latin writings more directly and easily, without being compelled so often to translate and to think in another language.   
Sessions are aimed exclusively at developing ability in speaking Latin, understanding others speaking Latin, reading and explaining Latin texts in Latin, and in writing in Latin. Througout the seminar, the participants also compose a Latin drama which is presented on the last day.  Participants are involved in intensive activity each day from morning until early evening.  Themes for discussion involve books, literature, social and political history, art and culture, but discussions are also devoted to questions pertaining to every-day life. Academic presentations in Latin are part of the seminar as well. In 2011, Prof. David Money from the Cambridge University talked on Latin verse composition and Prof. Andreas Fritsch from Freie Universitaet Berlin on the fate of Latin in Germany. Finally, the meals taken together and the evenings spent in chatting and singing in Latin are a celebration of the Latin spirit.
Since 2010, an additional active Latin seminar is taught by the UK professors Milena Minkova and Terence Tunberg at Dickinson College in Carlisle, Pennsylvania. 
High-school teachers, college and university professors, graduate and undergraduate students from all the corners of the USA and abroad (from places like Switzerland, Canada, and Australia) have attended the last three years. In 2012 the number of participants was 35.
Read more about the Dickinson College seminar >>
Read more about the UK Institute of Latin Studies, in which Latin from all times is taught in its continuity and in the target language >>
UK Institute of Latin Studies Student Success Stories Stories, Podcasts, Videos & Photos