By Sarah Geegan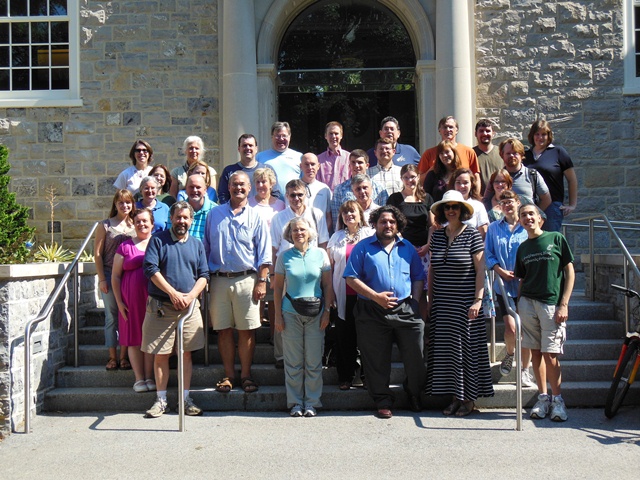 The Conventiculum Dickinsoniense, an annual Latin immersion seminar hosted by Dickinson College in Carlisle, Pa., spotlighted two of UK's most acclaimed professors this summer.
Professors Terence Tunberg and Milena Minkova of the Classics Division in the Department of Modern Classical Languages Literatures and Cultures, conducted the seminar, which aims to enrich high school teachers' preparation to teach Latin. The event also attracts professors and graduate students from disciplines that benefit from good knowledge of Latin.
Participants travel from across the globe to attend the Dickinson seminar each year; the past three seminars have received scholars from the U.S. to Switzerland and from Canada to Australia.
"We focus on masterworks written in the Latin language, but also on many techniques and activities that help participants use the language of the authors as the sole means of communication among themselves," Tunberg said. "Since the participants are from many different cultures, the use of this language, as opposed to a language that is native to one particular culture or nation, creates a truly international and multicultural environment in which all people are on equal footing."
Tunberg said the participants' speaking Latin throughout the seminar enriched the experience because the language's native culture is in a literary tradition.
"That tradition is in the property of no single culture, but is handed down to all peoples," Tunberg said.
The Classics Department at Dickinson College invited Tunberg and Minkova to establish an Active Latin seminar for teachers in the northeast U.S., in 2009. Minkova said that the invitation reflected the success of the UK Institute for Latin Studies, a graduate certificate curriculum, which Tunberg directs. The curriculum, also conducted entirely in Latin, presents the language in its continuity from ancient to modern times.
"Teachers and professors find the same active methods that are used in our UK Institute for Latin Studies of great use in their classrooms," Minkova said. "There is an explosion of interest for active Latin in the U.S."
Tunberg and Minkova plan to continue their involvement with the Dickinson seminar and to remain activists for the Latin humanist tradition in general education.
"No other classics department in North America, even the largest and most prestigious, has the same reputation for success in this particular approach to Latin as the UK Classics Division," Tunberg said.
To listen to a podcast, produced by the College of Arts and Sciences, in which Tunberg discusses the importance of Latin in modern literature as well as a lecture that the Classics Division hosted in March, click here.
To listen to a podcast, produced by the College of Arts and Sciences, in which Minkova describes the Institute for Latin Studies, click here.