Location:
UKAA Auditorium @ W.T. Young Library
Speaker(s) / Presenter(s):
Mina Yazdani
Not only is the Middle East the birthplace of three of the world's great religions, Judaism, Christianity, and Islam, but it is also home to other less well-known religions.  Dr. Mina Yazdani will discuss Iran and its ties to the lesser known religions, Zoroastrianism, and the Baha'i Faith, and the mystical interpretation of Islam, Sufism.
Dr. Yazdani is an Assistant Professor in the Department of History at Eastern Kentucky University.  She received her Ph.D. from the Department of Near and Middle Eastern Civilizations at the University of Toronto.  Her thesis was entitled, Religious Contentions in Modern Iran, 1881-1941."  Her current research interests focus on Modern Iran and the Islamic World.  She has published widely in both English and Persian.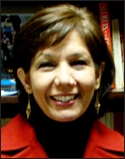 Type of Event (for grouping events):